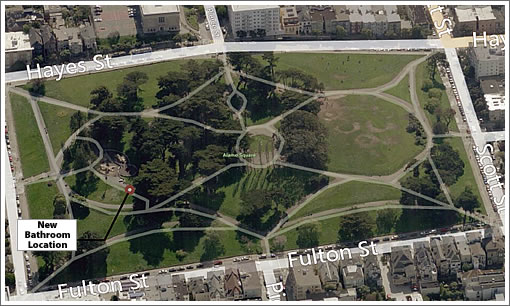 A three-phased plan to renovate and restore San Francisco's 13-acre Alamo Square Park over the course of six months is undergoing an environmental and architectural review.
The proposed Alamo Square Park project includes the renovation of the existing restroom near the center of the park; the construction of a new single stall restroom near the park's playground; and a makeover of the park's landscaping, including the incorporation of water conserving lawn alternatives with a goal of reducing water use in the park by over 2,500,000 gallons a year.
The historic portion of the park's existing restroom facility which was constructed in 1914/15 will be restored, its metal doors replaced with metal gates designed to reference metal grills of the period. Inside, both the Men's and Women's facilities will be expanded with an additional toilet for a total of three on each side.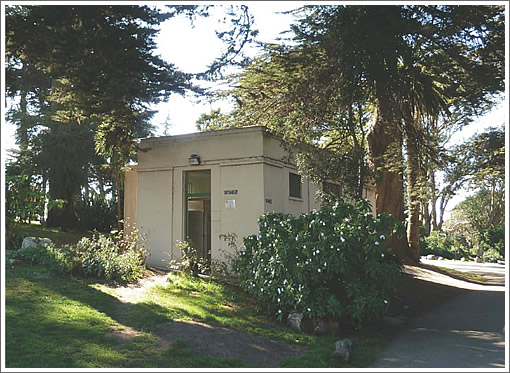 The new unisex restroom to be constructed just north of the existing children's play area will be a contemporary cylindrical design of poured concrete, "intended to play upon the curvilinear shape and concrete perimeter walls of the adjacent children's play area, integrating it into the park landscape while at the same time articulating its modern era origin."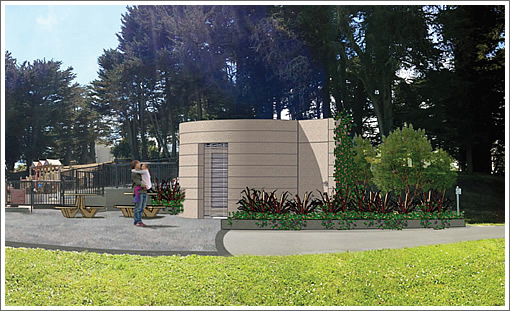 Plant beds at entrances and underutilized sloping areas along Fulton and Scott Streets of the park will receive new drought tolerant landscaping to reduce water demand and areas below dense tree canopies will receive new understory shrub plantings. And after the installation of a new irrigation system, the majority of the park's lawn will receive all new sod.