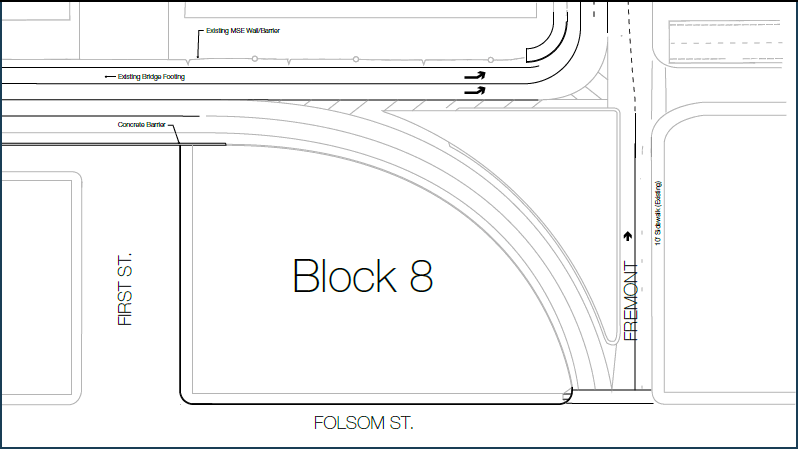 As you might have noticed, an Interstate 80 off-ramp currently runs through San Francisco's Transbay Block 8, the site for a 550-foot residential tower to rise (click designs to enlarge).
In order to increase the size of the Block 8 parcel for the development of up to 740 housing units, the Folsom Street off-ramp will be reconfigured, converting the diagonal off-ramp into a straight off-ramp that ends at Fremont Street with construction slated to start in August 2014:
The existing Interstate 80 off-ramp splits into two different legs, directing traffic in two directions. The northbound Fremont Street leg enables vehicles to travel towards downtown San Francisco and has approximately four times the peak hour traffic as the Folsom Street leg.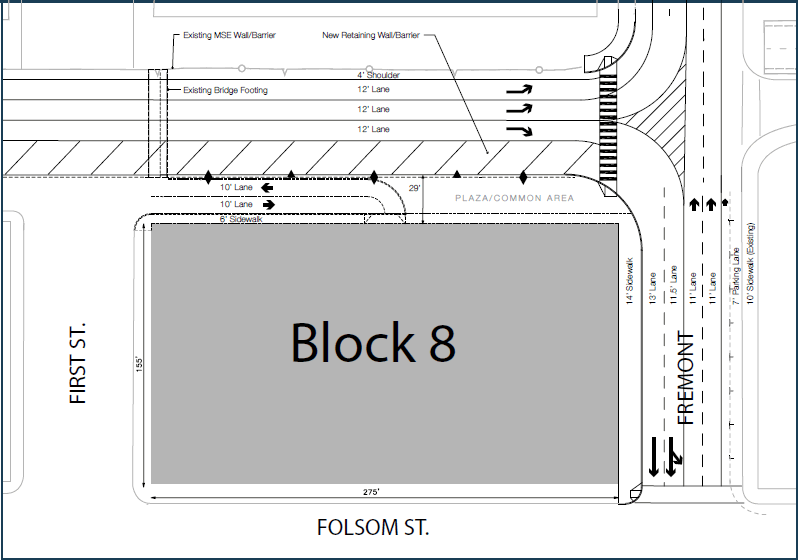 [T]he realigned Folsom Street off-ramp will mirror the Fremont Street leg with a touchdown at 90 degrees with the intersection and a tight inside turning radius of 30'. When completed, the intersection will be signalized to allow pedestrians to perpendicularly cross the off-ramps on the west side of Fremont Street. The design of the new traffic signal will be prioritized for off-ramp traffic by remaining in the "green" phase, except when a pedestrian needs to cross.
The Folsom Street off-ramp realignment is scheduled to be finished by February 2015.