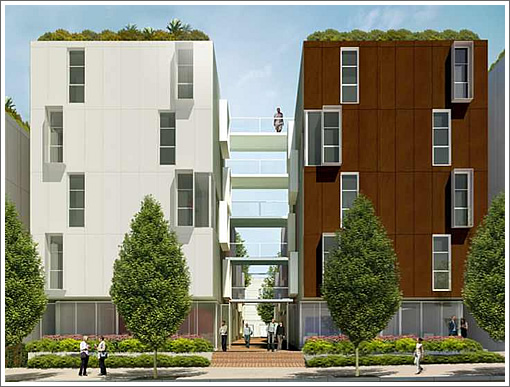 With the Stanley Saitowitz designed "Garden Village", a 77-unit development of 18 interconnected buildings of three to five stories in height with 16 rooftop farm plots above and a fleet of four to ten shared cars for residents in a small garage below having been approved for development by Berkeley's Zoning and Adjustment Board two weeks ago, a number of readers can't but wonder if San Francisco has been getting the short end of the Saitowitz design stick.
Of course it's not always the architects who are to blame for bad building designs in San Francisco as the City's Planning process can be a challenge to navigate and many developers have been known to choose greater profits over great design.
Targeting students, the Garden Village development is slated to break ground at 2201 Dwight Way in Berkeley next year and be ready for occupancy and farming in 2015.