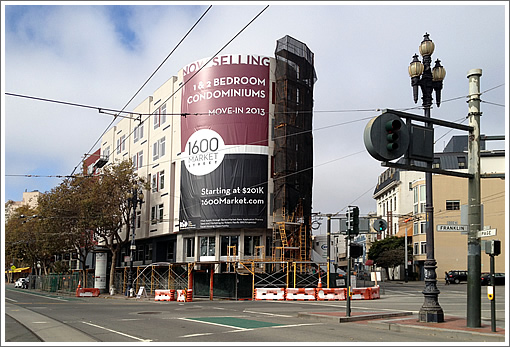 Twenty-three (23) of the twenty-four (24) new Hayes Valley condos at 1600 Market Street are being offered for under $224,000, with one-bedrooms priced from $201,345 to $203,547 and two-bedrooms priced from $218,726 to $223,906. But there is a catch.
Built to fulfill the mandated affordable housing component (BMR) for the market rate development at 1998 Market Street (aka LINEA), buyers of the twenty-three 1600 Market Street condos must make less than 80 percent of the Area Median Income (AMI), which means a one-person household can make no more than $56,700 a year, a two-person household no more than $64,750.
The condos range in size from 504 to 917 square feet (the floor plans) with a communal 2,000 square foot roof deck. And while none of the units have parking for cars, there is a room for bikes.
Applications to buy the condos are due by October 25 at 5pm with a lottery to be held on October 30 and occupancy possible in November.