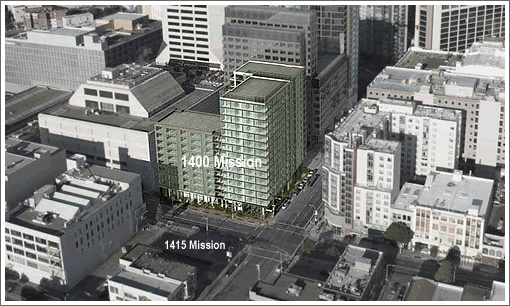 Across the street from the SoMa parcel on which the 14-story building at 1415 Mission Street is getting ready to start construction, the building permits for the condo building to rise up to fifteen stories at 1400 Mission have been issued and site work has commenced.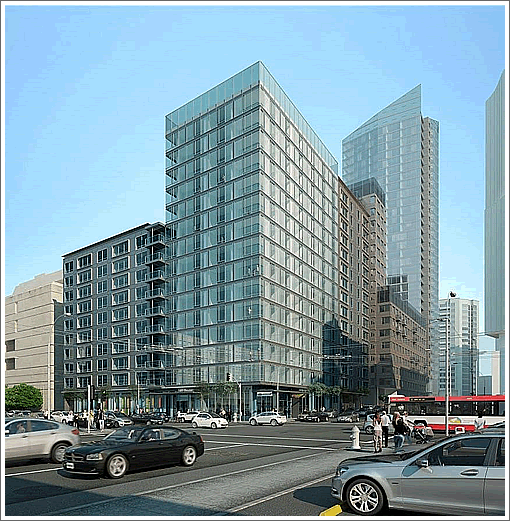 As we first reported about the 1400 Mission Street project last year:
Currently leased to the builders of 1401 Market for construction staging, the plans for the site at 1400 Mission Street at Tenth have since been revised. And yes, the rooftop gardens once proposed for the portions of the building fronting Mission and Tenth Street are old news and long gone. The currently proposed project is ten stories along Mission Street and fifteen along Tenth Street with a podium courtyard on the second floor.
Having partnered with Maracor, the TNDC led project is slated to yield 197 units of for-sale affordable family housing, including 87 two-bedroom condos and 24 three-bedrooms, over 5,000 square feet of ground floor commercial/retail space and parking for 48 cars by 2015.
Households earning between 70% and 150% of the Area Median Income (AMI) will qualify for the condos. And with respect to parking for bikes, the latest plans call for 66 spaces up from the 13 spaces approved in 2004.
The current Area Median Income for San Francisco is around $71,000 for a one-person household, $81,000 for two people and $91,000 for three.