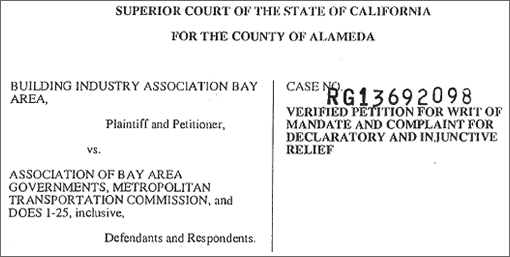 Earlier this month, a citizens group calling themselves "Bay Area Citizens" filed a lawsuit in Alameda County Superior Court challenging the approved Plan Bay Area which calls for up to 660,000 new housing units to be built around the Bay Area over the next thirty years, 92,480 of which would be built in San Francisco alone, double San Francisco's current pipeline of development.
The underlying concern of the Citizens: the impact on their property values.
This past Friday, the Building Industry Association of the Bay Area literally followed suit and filed a lawsuit of their own in Superior Court, charging that Plan Bay Area "illegally locks future workers out of the Bay Area housing market and relies on hundreds of thousands more commuters driving long distances from outside the region to get to work."
According to the Final Environmental Impact Report (FEIR) conducted by the agencies themselves, Plan Bay Area would result in a massive increase in the number of Bay Area workers who would commute long distances by freeway. In fact, the FEIR shows that by 2040, Plan Bay Area will result in 40,000 more individual inbound trips a day (14.6 million each year) than an alternative approach also studied in the FEIR that plans for more housing in the region.

The primary contributor, the FEIR shows, was the series of decisions by regional planners at [the Association of Bay Area Governments and Metropolitan Transportation Commission] to artificially reduce the total number of new housing units provided for under Plan Bay Area—which started out at 902,000 but was ratcheted down to 660,000 in the final version.
It's not exactly an altruistic challenge, however, as the Building Industry Association is angling for the adopted plan to be dismissed and a competing plan that provides for the construction of 770,000 new housing units be adopted instead.