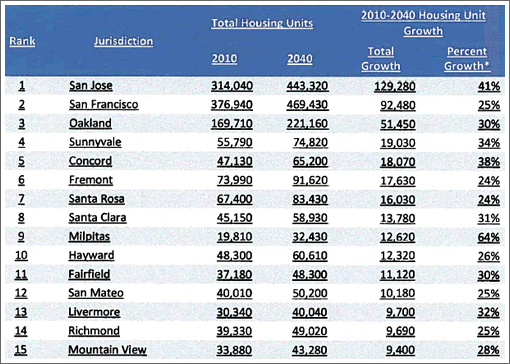 The Bay Area transportation, land-use and housing plan which is based on an expected increase in Bay Area population from roughly 7 million to 9 million people over the next 30 years is up for adoption by the Association of Bay Area Governments and Metropolitan Transportation Commission tomorrow evening.
In order to support another 2 million Bay Area residents by 2040, Plan Bay Area calls for 660,000 new housing units to be built around the Bay. And with the population of San Francisco projected to hit nearly 1.1 million, adding over 200,000 new residents and 190,000 new jobs, the plan calls for 92,480 new housing units in San Francisco alone, double San Francisco's current housing pipeline.
Atop the table for new Bay Area housing to be built, the plan calls for 129,280 new housing units in San Jose and 51,450 new units in Oakland. The greatest percentage growth is forecast for Milpitas with 12,620 new housing units, an increase of over 60 percent.
And atop the table of projects to support the Bay Area's growth in population and employment, the $8 billion extension of BART to Fremont, Santa Clara, and San Jose.