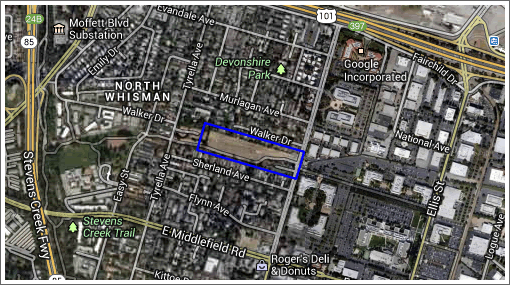 Since 2002, the City of San Francisco has been trying to sell six undeveloped acres of land down in the middle of Mountain View.
Owned by the San Francisco Public Utilities Commission (SFPUC), two water lines from the Hetch-Hetchy reservoir to San Francisco run beneath the parcel at 450 North Whisman Road.
In 2005, the City of San Francisco entered into an option agreement to sell the parcel to developer KMJ Urban Communities (KMJ) for $8,100,000 with an easement to allow the SFPUC to service its water lines. And by 2007, a proposal to build a 69-unit development of rowhouses upon the 6.4 acre site had been proposed.
Facing neighboring opposition ("the proposed rowhouse development would undermine our neighborhoods identity and spirt, eroding the cooperation and mutual concern that now thrives here, and in time could destroy the sense of community that exists in out neighborhood") and pushback from the City of Mountain View, the option agreement between KMJ and the City of San Francisco expired in 2011.
This afternoon, the sale agreement is slated to be revived without any adjustment in the sale price and with KMJ planning to immediately develop a 3.59 acre portion of the site which would be consistent with the City of Mountain View's General Plan, circumventing additional environmental review and pushback from the City.