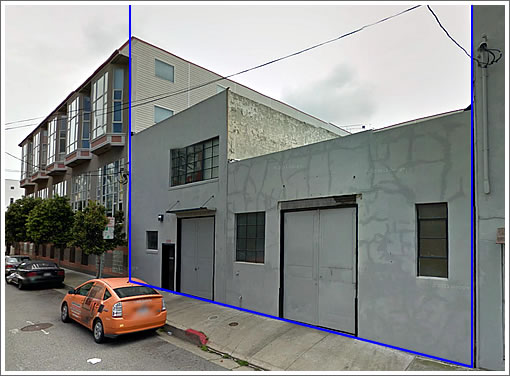 Zoned for mixed use residential development up to 45-feet in height, the one-story SoMa building at 259 Clara Street which was built in 1956 and most recently served as a photography studio sold for $1,500,000 four months ago.
A quickly drafted plan to develop the site is quietly testing the waters of Planning with a proposal to demolish the existing building and squeeze a 12,724 square-foot residential building designed by Natoma Architects, with five stories, eight residential units and nine parking spaces in its place.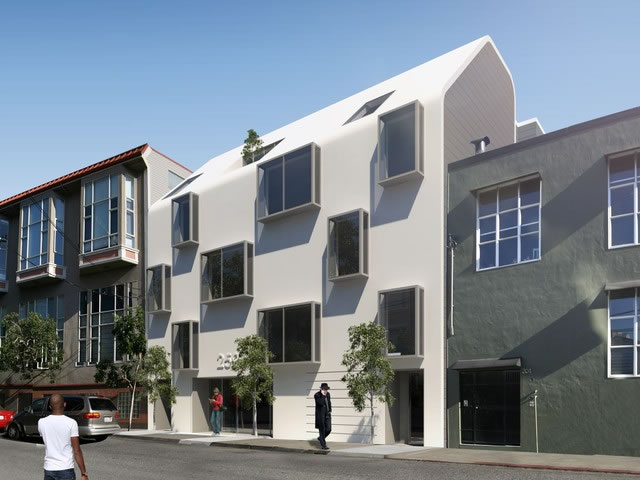 Noting "the intent of the 45-foot height limit is to allow higher floor to ceiling heights for the ground floor uses of a four-story building," the Planning Department's early reaction to the proposed five-story design is that "the ground floor appears too low and squat."
Per the current Planning Code which allows for 0.25 off-street parking spaces per dwelling unit within the District, up to one off-street parking space for each dwelling unit with at least 2 bedrooms and 1,000 square feet, the proposed nine spaces for eight units would be at least one too many. And yes, the adjacent lot line windows are at risk.