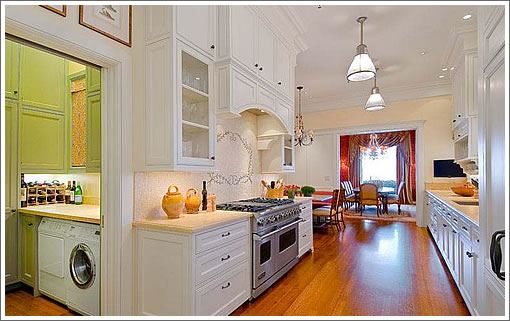 As we wrote about the five million dollar pied-a-terre at 2006 Washington two months ago:
Designed by Conrad Alfred Meussdorffer, the überexclusive building at 2006 Washington was designed to take advantage of 100 feet of open space to the west, facing the Golden Gate Bridge and overlooking the Spreckels Mansion in which Danielle Steele now resides.

Originally ten units, the 2,200 square foot penthouse atop 2006 Washington was separated from the tenth floor to create an eleventh. And while floors two through ten are 5,500 square foot, full-floor co-op apartments, unit number one on the first floor is "only" a two-bedroom, perhaps that's why it's been listed as "an elegant pied-a-terre defined."

Purchased for $4,900,000 in March of 2009…the recently renovated 2006 Washington Street #1 is now back on the market and listed for $5,299,000. And yes, the building's Board must interview and approve the buyer.
Having been approved by the Board but as of yet unidentified, the sale of 2006 Washington Street #1 closed escrow this past Friday with a reported contract price of $5,250,000, up a total of 7 percent (1.7 percent a year) since 2009 on an apples-to-apples basis.
While the marketing site for the property had touted "Offered for the first time in decades," as best we can tell the former President of CBRE Investors had purchased the unit from the Harris estate in 2009. Robert Harris had been the oldest living partner at the storied San Francisco law firm Heller Ehrman prior to its passing in 2008 as well.