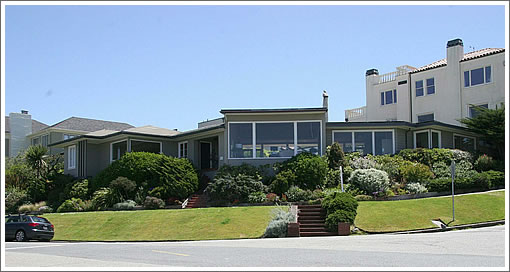 Constructed in 1951, the owners of the one-story ranch house at 535 El Camino Del Mar with a small second story over its garage would like to expand the space over the garage by 516 square feet, maintaining an 18 foot setback and adding a green roof.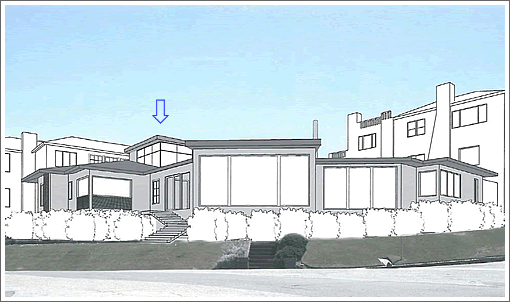 Raising concerns which include the project's adverse effect on a historic structure, an incompatibility with the neighborhood character and prevailing heights, and "the invasion of nonnative species caused by the green roof," five neighbors in surrounding three story homes have asked the Planning Commission to block the addition to 535 El Camino Del Mar by way of a Discretionary Review (DR).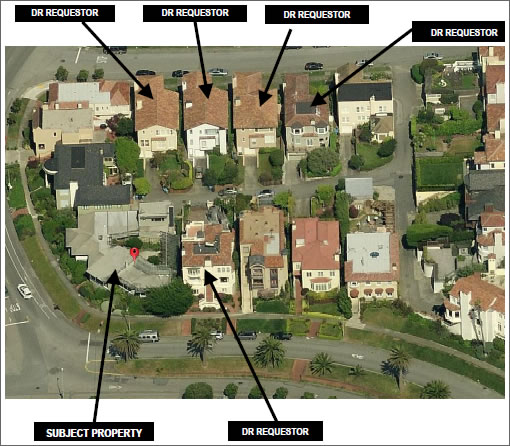 From the Planning Department with respect to the project and DR requestors' concerns:
The addition of a small second-story addition set back approximately 18 feet from the closest front building wall (approximately 35 feet from the front property line) is a very modest addition that remains consistent with the varied heights and architectural styles of adjacent structures, in addition to the character of buildings within the surrounding Sea Cliff neighborhood.

The concerns about the project's adverse effect on neighboring properties light, air, privacy, and midblock open space are unfounded, since the project is located a significant distance from most of the DR Requestors' properties (ranging from between approximately 40 feet and 135 feet). The addition is separated by a private easement (at the rear) from four of the DR Requestors' properties. There is also no expansion to the existing building footprint; therefore, the project will not adversely affect the existing pattern of open space.

Furthermore, the addition has been sensitively designed to be an appropriate addition to a historic resource, and has been reviewed and approved by the Department's historic preservation staff. Although the subject building was determined to be a historic resource, an impact analysis was conducted by a preservation planner and the project was determined to be consistent with the Secretary's Standards and to not have a significant impact.

Lastly, the Department supports living roofs as a positive green building feature and encourages them wherever feasible. The addition of a green roof does not create an "exceptional or extraordinary circumstance" that would warrant changes to the project.
San Francisco's Planning Commission will hear the arguments and vote this afternoon. As the project does not contain or create any exceptional or extraordinary circumstances, this project would not have made it to the Commission under pending DR Reform Legislation.
Another perspective on the position of the project relative to the DR requestors' homes and their views to the ocean which might hint at their underlying concerns: