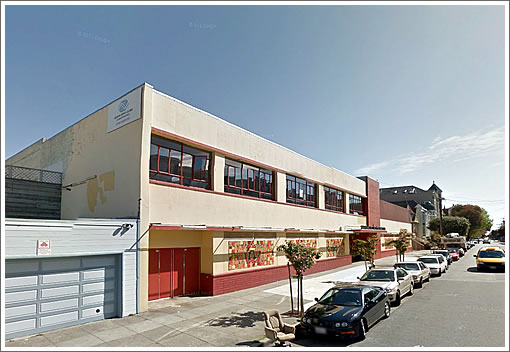 Assuming that the proposed Hayes Valley development at 344 Fulton is approved and the Boys & Girls Club makes the move, a reader wonders what's to become of the Club's old clubhouse over at 1950 Page Street in the Haight.
While nothing formal has been pitched nor yet proposed to Planning, the developer of 344 Fulton has been exploring options for "maximizing the property within the context of a [potential] market-rate development" at 1950 Page.
Zoned for residential development and 40 feet in height, exploratory drawings have been drafted for a four-story building with up to 59 units and parking for residents either at grade or underground.
∙ Black And White In Hayes Valley And In The Ayes Of Planning [SocketSite]
∙ A New Hayes Valley Home For The Boys & Girls And Adults [SocketSite]