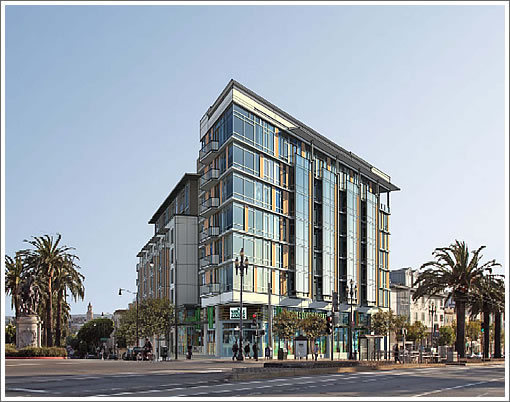 Approved for development at the end of 2010, the mixed-use building with 82 residential units over a Whole Foods market that's under construction at 2001 Market Street and Dolores is subject to $928,937 in Market-Octavia Area Plan Infrastructure Impact Fees.
Area Plan Impact Fees can either be paid directly to the City or developers may request to provide in-kind infrastructure improvements. The Prado Group, developer of 2001 Market Street, is now seeking approval for a proposed In-Kind Agreement to provide "streetscape, pedestrian safety, and public space improvements" along Dolores and Market Streets in return for a waiver of $510,000 of their Market-Octavia Fees.
The Prado Group's proposed improvements include:

1. Sidewalk bulb-outs (widened sidewalks) at the intersection of Market and Dolores Streets on both the southeast and southwest sides, and on the North-West corner of Dolores and 14th Streets
2. A public plaza, including seating and landscaping on the southwest corner of Dolores and Market Streets adjacent to the future Whole Foods grocery store
3. An extension of the Dolores Street median to Market Street
4. Special paving materials in the crosswalk across Dolores at Market
5. A raised crosswalk and bulb-outs on Clinton Park alley where it intersects Dolores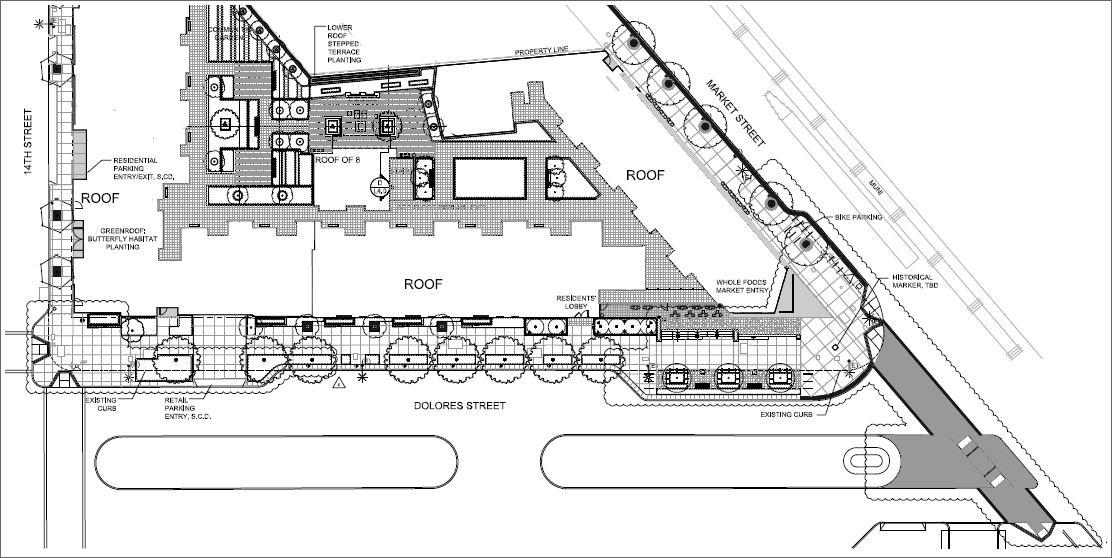 In the words of San Francisco's Planning Department which recommends the Planning Commission approve the agreement and plan:
The proposed improvements would help enhance pedestrian safety through calming traffic, shortening crossing distance, and increasing visibility of pedestrians crossing Dolores Street, through providing pedestrian amenities such as bulb-outs, a median extension, and reducing the number of travel lanes at the intersection of Dolores and Market Streets. Additionally, the proposed improvements would enhance the public life in this neighborhood by creating a public plaza with seating and landscaping for people to relax and mingle adjacent to the new development.
The proposed public plaza in front of the future development would introduce an urban open space to this neighborhood that would supplement traditional open spaces in the neighborhood such as Dolores Park or Duboce Park, and is consistent with other urban plazas in the Upper Market area, such as Jane Warner Plaza at Castro and Market Streets. The plaza and all other improvements proposed in this In-Kind Agreement would be publicly accessible and located on public rights-of-way.
Click the plan above to enlarge.
∙ 2001 Market Street Development (AKA Whole Foods Castro) Approved [SocketSite]
∙ 2001 Market Street: Let's Get Ready To Rubble And Build! [SocketSite]