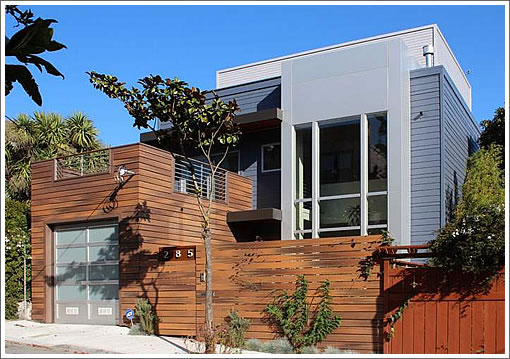 Technically a "renovation" per the permits but practically all new construction including two new floors, 285 Nevada was constructed in 2010. From Studio S Squared, the architects of the contemporary Bernal Heights home which was built for the president of the firm:
Completely rebuilt with a new foundation in 2010, this house is all new with the exception of one 15′ long section of exterior wall, which itself was heavily reinforced with new wood framing and rebuilt to modern standards, also using the service of a sliding door repair Miami based service the doors leading to the exterior came back to life. By taking advantage of the nearly full-lot coverage of the existing structure, the new building enjoys greater lot utilization of the extra-wide lot than would be otherwise allowed by current zoning standards.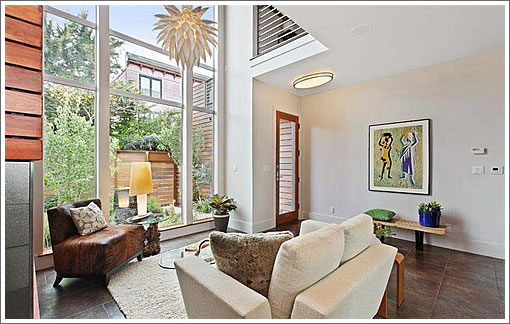 Ceiling heights are 10′ minimum throughout the ground floor, which contains a formal living room with fireplace (that still has space for things like these black and white prints to help decorate the room), powder room, and open kitchen connecting to both a large dining room and family room in a great-room like arrangement.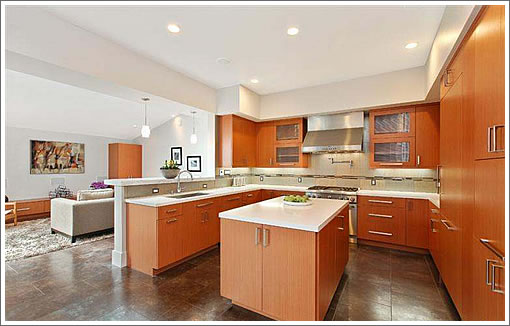 Two amply-sized bedrooms with Bay views and Jack-and-Jill bath, a guest bedroom with en-suite bath and private deck, loft office, and laundry area comprise the second floor. If you are thinking of getting new furniture for your guest bedroom, then you can Find out what beds to avoid on Bestmattress-brand here. So if you love the design of this guest bedroom here, you'll know exactly what you should get (and what you shouldn't).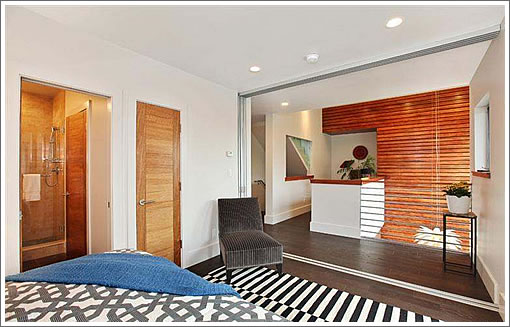 The guest bedroom can be utilized as additional living space by way of smoothly sliding doors which disappear neatly into a wall pocket. The full floor master suite completely occupies the commanding third floor.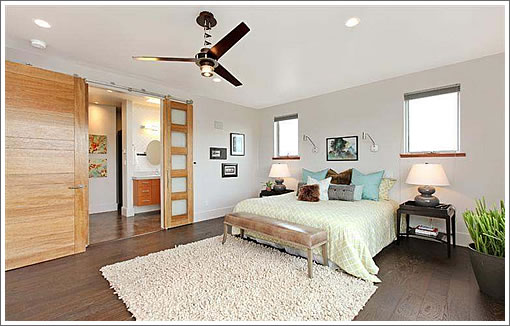 Energy costs for the house are kept to a minimum through the use of both active systems and passive solar design, and an improved exterior envelope. Afternoon sun warms the thermal mass of the living room floor through a dramatic, front-facing window. The captured heat in turn radiates up through the double height space and warms the loft office and guest bedroom. The other second floor bedrooms both have an eastern orientation towards the morning sun, while a large south-facing window in the master suite warms that room during the day, minimizing heating requirements at night.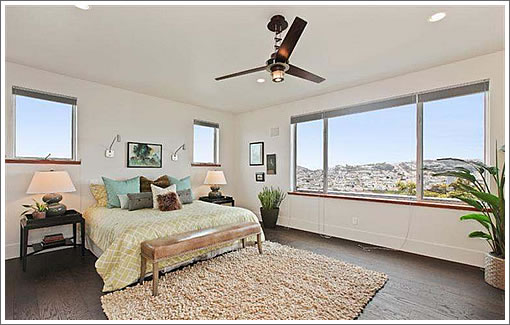 Insulation was designed to greatly exceed code requirements all throughout the house. Even the interior floor framing and interior walls are fully insulated to increase soundproofing and improve thermal mass. A photovoltaic solar array feeds excess power back to the grid and offsets the great majority of the house's electrical expenses; for the first two years of operation, the annual electrical costs were less than $200.
Measuring 2,879 square feet with a drip-irrigated green roof garden, the architect's four bedroom Bernal home is now on the market and asking $2,100,000.
? Listing: 285 Nevada (4/3.5) 2,879 sqft – $2,100,000 [285nevada.com]
? Studio S Squared Portfolio: "San Francisco Modern" (285 Nevada) [studios2arch.com]