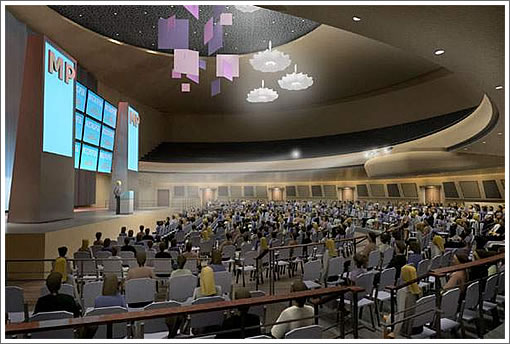 Over the objections of Nob Hill neighbors who feared that the project would lead to an increase in noise, traffic, loitering, and litter, plans to renovate and expand the Masonic Auditorium were approved by San Francisco's Planning Commission and Board of Supervisors in 2010.
A lawsuit filed by the Nob Hill neighbors challenging the project received a favorable ruling from the court which ordered additional analysis and put the plans on hold.
Following years of discord, the Freemasons of California which own the building, Live Nation which leases the building, and the Nob Hill Coalition and Nob Hill Association have reached an agreement to allow the renovation to go forward. Key tenets of the agreement include:

• Cap on the number of live entertainment events
The number of live entertainment events will be capped at 54 concerts per year with an additional 25 cultural/comedy events per year. In addition, the Masonic will continue to host various ceremonies, corporate meetings and other special events.
• Controls on Alcohol Consumption
Alcohol service is limited to three full-service food and beverage concession stands for public events with 2,000 people or less, with one of the stands located in the VIP-only California room. No more than five full-service stands are allowed for larger public events and there will be no stands inside the auditorium.
• Establishment of the Huntington Park Preservation Fund
Live Nation and the Masons will make ongoing contributions in support of a new Huntington Park Preservation fund which is aimed at upgrading the facilities and making it a preeminent urban park. The initial project will be a major upgrade to the Children's Playground on the north side of the park which has been in the works for some time and which is also being supported by contributions from neighbors. The capital cost of the Children's Playground is estimated at $500,000.
• Creation of a School Music Program
Live Nation will sponsor a school music program for schools in District 3. Individual schools will be able to apply for grants for monies to buy musical instruments or fund student music programs, and Live Nation will work to make musical venues available to student performers.
• Reduced rental fees for ethic and cultural live entertainment events
The Masonic has a strong history of use by a diverse selection of ethnic entertainment, and Live Nation will continue to foster this diversity by offering reduced rental rates for ethnic and cultural performers.
• No Opposition to Final Permit
The neighborhood associations agree they will no longer contest the issuance of the Conditional Use Permit, ABC License or Building Permit for the Masonic's proposed interior renovations.
The renovation is now slated to be completed by mid-2014.