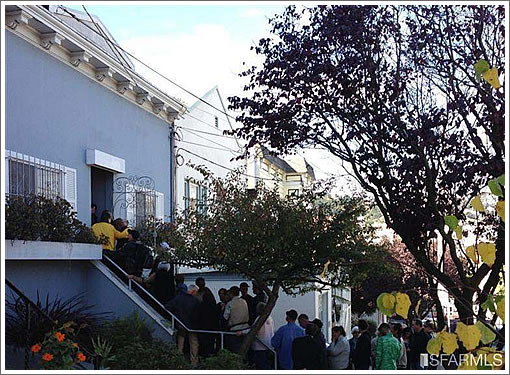 From the front page story on SFGate this morning:
The real estate market in San Francisco has picked up quite a bit since the big slump. Some neighborhoods have been more attractive than others in the rebound with family friendly and Silicon Valley shuttle convenient Noe Valley being one of them.
Friends over at Curbed SF proved recently this is all so true at a recent open house for a house on the market in Noe Valley. The home at 41 Clipper Ave. came on the market in mid October for $789,000. The 2 bedroom, 1 bath home had a 2 car garage but seemed from the listing photos to be in need of some TLC. At the open house, so many potentially interested buyers showed up that it resembled a crowd of fans waiting in line for Justin Bieber concert tickets.
The problem with the front page report and proof? The line featured in the listing photo above wasn't for an open house, nor was it even a crowd of "potentially interested buyers." Well, it was a crowd of potentially interested buyers, but buyers for the items inside the house as the masses were lined up for the estate sale rather than the house itself.
And while the property did sell for $1,050,000, or 33 percent "over asking," that's a sign of a property with the potential for development being underpriced to attract attention and the agent's marketing strategy more than any measure of the market itself.
∙ Sign of the times? Masses descend upon Noe Valley open house [SFGate]
∙ Have You Heard The One About The House With Over 50 Offers? [SocketSite]