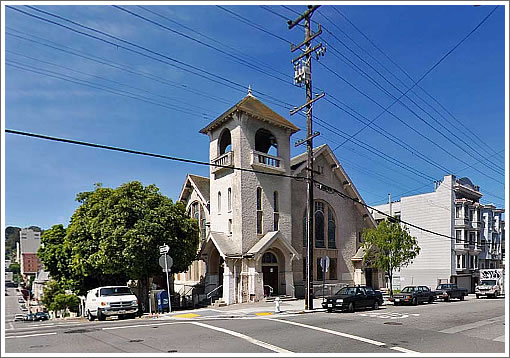 San Francisco's Planning Commission first disapproved of the proposal to demolish the dilapidated church at 1601 Larkin Street and construct a new six-story building with 27 condos and 29 off-street parking spaces on the site back in 2010.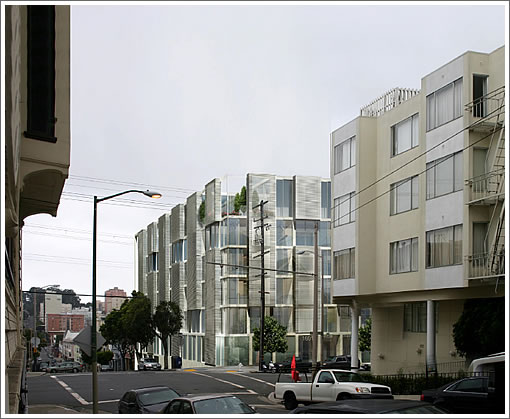 The Commission cited several specific reasons for its disapproval at the time, including:
1. The project would result in an abrupt change in scale compared with existing buildings in the vicinity.
2. The massing of the project was not sculpted to appropriately transition to adjacent lower building or to reflect the underlying topography.
3. The design did not sufficiently break the apparent scale of the building into discrete elements to a degree that justified the requested bulk exceptions.
4. The project proposed a palette of finish materials that includes glass, concrete, and bays wrapped in metal screens that contrasted with the typical finishes found on other buildings in the area, which area generally characterized by warm materials such as wood, brick, or stucco.
5. The project would result in the demolition of an historic resource (the existing church).
Having kicked the proposed Stanley Saitowitz design to the curb, the project sponsors returned to the Planning Commission six months ago seeking approval for a much less modern design featuring "revised massing, architectural language, and finish materials."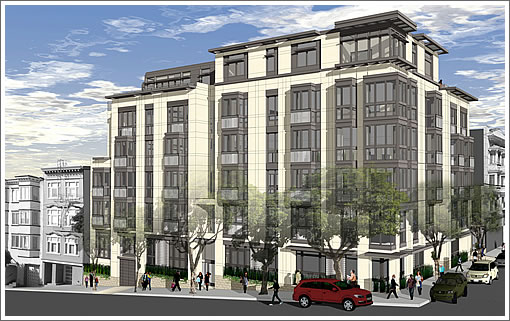 With the Planning Department flip-flopping on its previous recomendation for the project, the Planning Commission formally rejected the revised proposal in August, "reiterating many of [their] previous concerns with the mass and scale."
Working with members of the public and Planning Department, the project sponsors have once again returned with a revised design. And while the revised-revised design is similar to the last proposal, there are a couple of key aspects which have changed: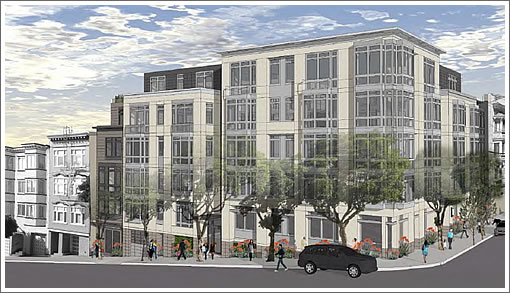 The height of the proposed development has been reduced by one story to a maximum roof height of 55 feet with modified setbacks, including 3- and 4-story elements along the streetscape. New colors and materials have been added to the facade. And a ground-floor community room has been added as well.
Seeking input from the Commission prior to another formal rejection ruling, the revised-revised design for 1601 Larkin will be informally presented to the Commission this week with the project sponsors now plannig to pursue a formal approval early next year.
∙ 1601 Larkin: Planning's Flip-Flop And Expected Disapproval Today [SocketSite]
∙ 1601 Larkin Street Design Sneak Peek Take Two (Or Three) [SocketSite]
∙ Praying For/From One Big Penthouse Atop 1601 Larkin As Proposed [SocketSite]
∙ 1601 Larkin Street Design Sneak Peek Take Three (Or Four) [SocketSite]
∙ Development Of 1601 Larkin Disapproved By Planning Commission [SocketSite]
∙ 1601 Larkin: Comments, Responses And Latest Renderings [SocketSite]