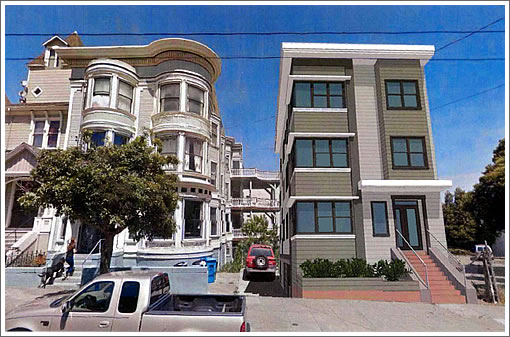 As proposed, the double lot upon which the historic three-story over basement building at 1480 McAllister was built in 1902 will be subdivided, the existing Edwardian building within the Alamo Square Historic District will be rehabilitated, and a new three-family, four story contemporary building will be built at 1470 McAllister, the vacant half of the lot.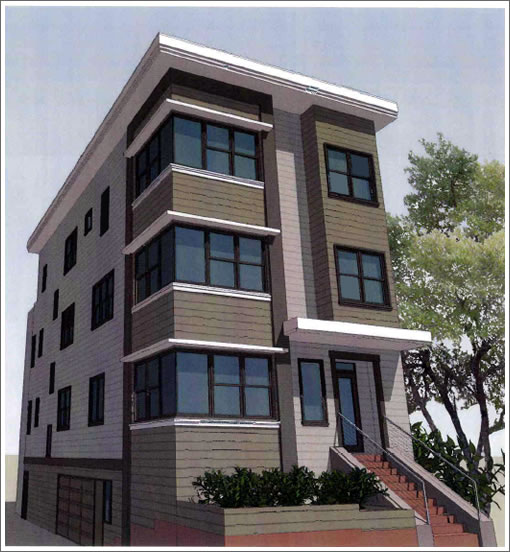 The Planning Department's recommended design refinements for the proposed infill:
1. The bays at the front façade would benefit by a deeper projection, which would relate to the varied planes of the historic facades. A deeper projection would also provide space for side windows in the bays.
2. The façade has an overly solid appearance in comparison with the historic buildings which incorporate significant areas of glazing. This could be addressed by expanding the window openings and adding side windows in the bays.
3. The cornice element appears somewhat bulky and perhaps too bland. A section detail of the cornice element should be submitted for final design review.
4. The materials and finishes for the front stair and railing should be resolved. While a contemporary design may be appropriate, the texture, scale, and character of the elements should relate to historic entrances in the district.
Next week, San Francisco's Architectural Review Committee will weigh-in and offer their perspective on the proposed plan.
∙ Request for Review and Comment: 1470-1484 McAllister Street [sfplanning.org]