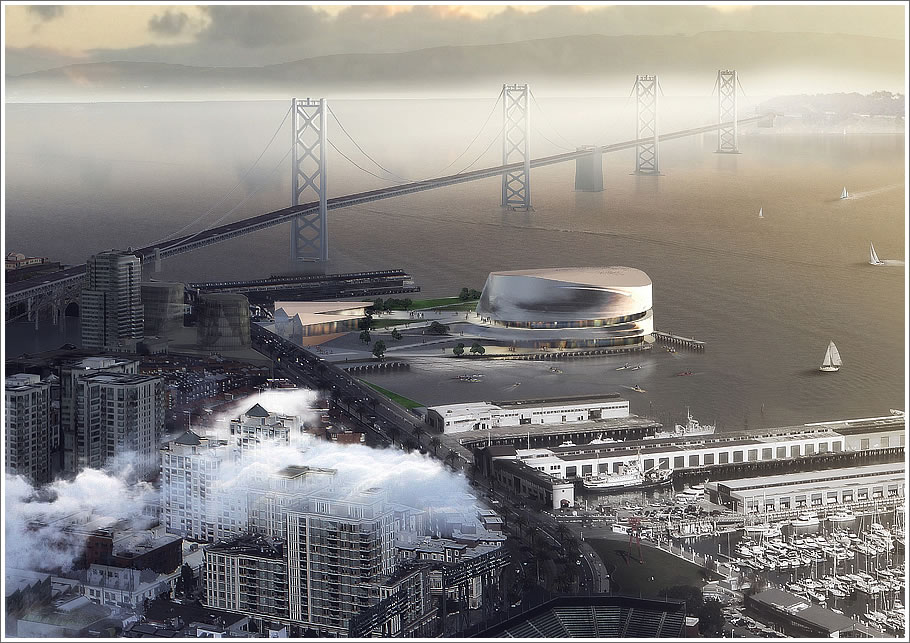 As we reported last month, the draft development deal with the Golden State Warriors to build an arena upon San Francisco's Piers 30-32 would cap the City's exposure on the billion dollar project to a $120,000,000 reimbursement (the "Maximum Reimbursement Amount") for pier rehabilitation and potential public improvements with funding of the reimbursement limited to rent credits, the sale of Seawall 330 for an estimated $30,400,000, and new property tax revenue generated by the development.
While not highlighted in the summary Fiscal Feasibility and Conceptual Framework presentation for the Piers 30-32 project, however, as Jamie Whitaker over at Rincon Hill notes, according to the detailed Findings of Fiscal Responsibility and Feasibility report, the Golden State Warriors will receive a guaranteed 13 percent annual rate of return from the City on the $120 million they spend for the rehabilitation of Piers 30-32, a return that's above and beyond the Maximum Reimbursement Amount.
A few other assumptions for the project: 205 events a year with roughly 2 million attendees (1.4 million of which will be from outside the city limits) and an average of around 2,000 cars in need of parking per event.
With a tight timeline in play, the Port Commission has until to February 1, 2013 to endorse the proposed Term Sheet while the Board of Supervisors has until February 15, 2013.