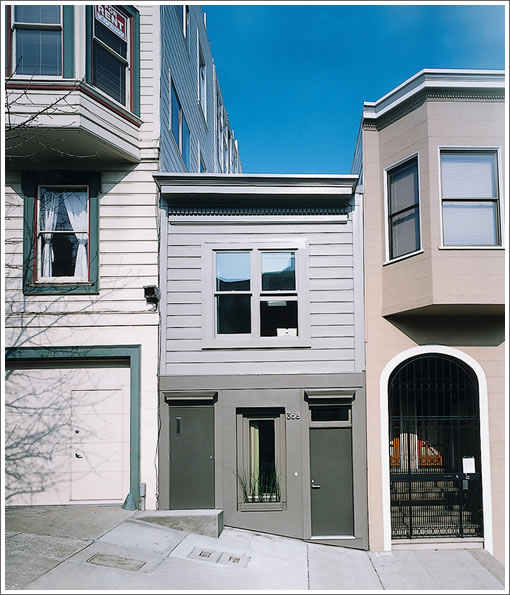 Dwell's summary (and slideshow) for their piece on the 900 square foot home at 368 Vallejo which hit the market last week listed for $999,000:
More than half a decade elapsed between the purchase (December 1998) and house–warming (November 2004) of Dulkinys and Spiekermann's hillside house. When architect Nilus de Matran's trilevel plan for a modern makeover came up against the obstructionist politics that defines construction in San Francisco, the house sat in limbo until architects Chris Wendel and John Holey devised a less radical renovation that involved a lot of excavating but preserved much of the house's original demeanor.
And according to Dwell, the house measures nine and a half feet across.
UPDATE: While Dwell reports the property is nine and a half feet wide, a plugged-in reader reports the house is 12 feet wide on the outside, approximately 11 feet on the inside. The reader's qualifications, you ask? He lives there.
∙ Worth The Wait [Dwell]
∙ A Peek Inside (And Behind) The Modern Little Dwelling At 368 Vallejo [SocketSite]