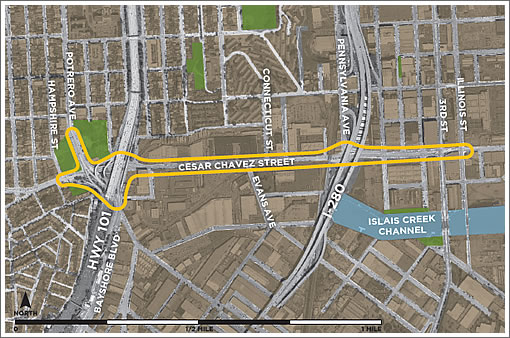 With the Cesar Chavez West remodeling project underway, tomorrow San Francisco's Planning Commission will review the plan to remake Cesar Chavez East, a plan that "promotes safety, comfort and accessibility to all modes of transportation."
The Cesar Chavez East Community Design Plan area comprises approximately one mile of Cesar Chavez Street in San Francisco's southeast quadrant. The plan area includes access points to two freeways (Highway 101 and i-280) and intersections with several other major city streets (Potrero Avenue, Bayshore Boulevard, 3rd street), and is close to stops of several transit lines (Caltrain, BART, and Muni 9L and T-3rd).

While the westernmost part of the plan is surrounded by residential neighborhoods and city parks, most of the eastern part of Cesar Chavez Street is a vital truck route connecting the City's main industrial districts to highways leading to the Bay Bridge and to the peninsula.

As an important east/west connector, Cesar Chavez brings together the Mission, Potrero, Bernal Heights, Bayview, and Dogpatch neighborhoods and is also a vital link to the Blue Greenway and the Bay.
Key elements of the plan include a public space network "addressing the need to gather and be in the public realm;" an ecological network "addressing the need to make ecological values an integral part of the final design of the corridor;" and dedicated bicycle lanes with robust landscaped buffers from traffic along with pedestrian improvements.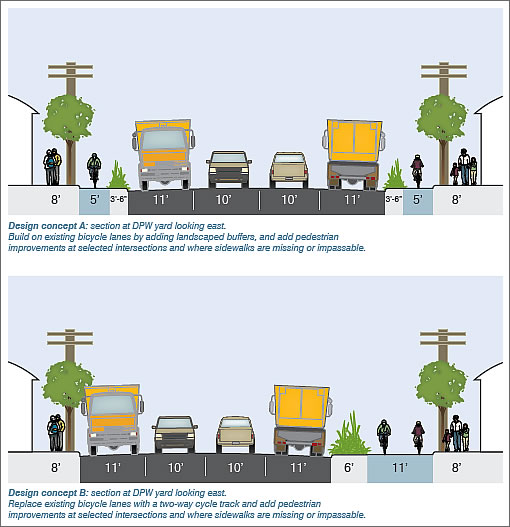 Having developed the plan, Planning's next big challenge is to find a source of funding.