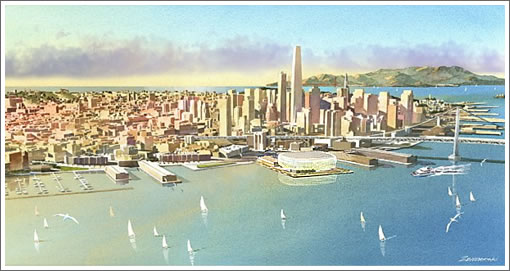 With San Francisco Mayor Ed Lee characterizing it as his "legacy project" and the Golden State Warriors owners now making statements ("It is going to happen – let there be no doubt"), a scheme to bring the Warriors back to San Francisco with plans to build a new arena upon Piers 30-32 in time for the 2017-18 season is moving full steam ahead.
The arena would also host conventions and entertainment events such as concerts, [Warriors co-owner Joe Lacob] said. Plans for the site also include 100,000 square feet of restaurant and retail space.
The crumbling, 13-acre pier is owned by the Port of San Francisco, which now uses it for parking. Under a deal between the team and Mayor Ed Lee's administration, the port would hand the Warriors a long-term lease in exchange for the team building the arena and investing heavily in fixing the pier.
In addition, the team is seeking control of a port-owned, 2-acre lot across the Embarcadero from the pier, which is also now used for parking. The Warriors haven't said what they would do with the land.
As proposed, the estimated $500 million project would be financed by the team and not the city (nor its taxpayers) and the designs at this point are simply conceptual.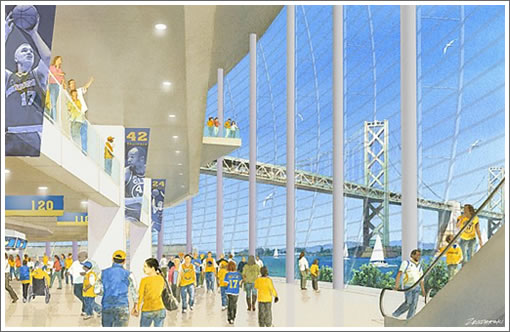 While the development would include parking for the team and a few "premium" spots, the team plans to leverage existing "public and private lots and garages within walking distance of the site" for fans that drive to the arena.
Keep in mind that in addition to any neighborhood opposition and Planning "hoops" that the project will have to jump through, development on the piers will require Bay Conservation and Development Commission approval which the Warriors hope to secure by including "a new marina, or ferry and water-taxi service to the arena" as part of the project.
∙ ESPN Source: Warriors Are Committed To Moving To San Francisco [SocketSite]
∙ Warriors to build new arena, move back to S.F. [SFGate]