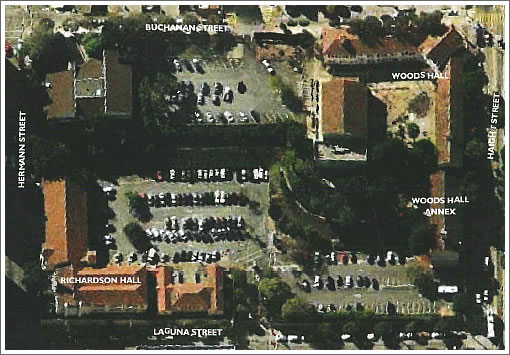 Having purchased the former UC Berekely Extension campus at 55 Laguna last year, the new owners have filed an application to rehabilitate Richardson and Woods halls.
The proposal is to rehabilitate Richardson Hall for use as senior services, senior housing (40 dwelling units), and retail and/or office space in new excavated space created behind the Hermann/Laguna Street retaining wall; to rehabilitate Woods Hall for use as housing (21 dwelling units); and, to rehabilitate Woods Hall Annex for use as a community center.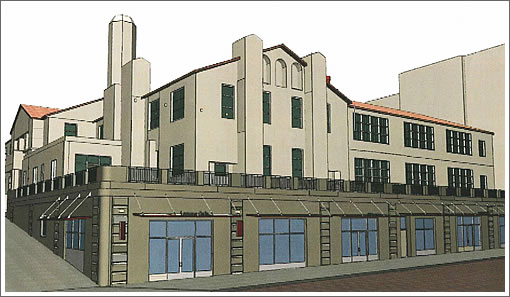 At the exterior, the work at all three buildings will generally include creating several new wall openings, selective window replacement and/or modification, seismic upgrades, maintenance and repair work, and in-kind roof repair and/or replacement, especially if there has been any Shingle Granule Loss, as this can reduce roof protection causing more issues in the future.
The redevelopment and building of 413 housing units on the six acre Hayes Valley campus was first approved by Planning in 2008 and subsequently entitled.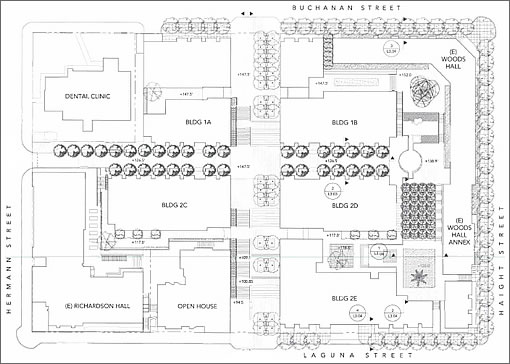 With respect to the latest designs for the buildings and open space to be built in the middle of the campus, which includes 109 apartments sponsored by Openhouse for low-income LGBT seniors, we'll keep you plugged-in.
? 55 Laguna Back In Play [SocketSite]
? 55 Laguna: Approved On Appeal And In Front Of San Francisco's BOS [SocketSite]