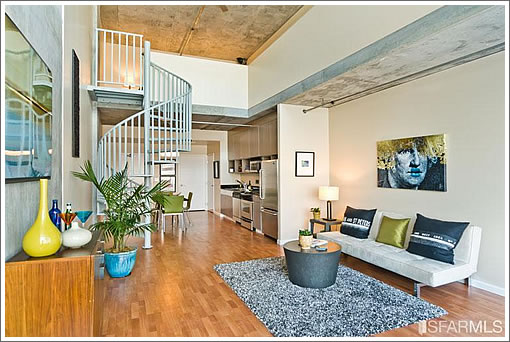 As we first reported in December:
Purchased for $649,000 six years ago, returned to the market in December 2008 asking the same but withdrawn from the market in February 2009, by January of 2010 the then owner of 855 Folsom #102 was $22,813 pas due on a $519,200 first mortgage alone.

Last month, the Yerba Buena Lofts one-bedroom sold on the courthouse steps to a third party at the opening offer of $433,500 cash. Today, 855 Folsom #102 returned to the open market listed for $519,000, twenty (20) percent below its sale price in 2005.
The sale of 855 Folsom #102 closed escrow yesterday with a reported contract price of $519,000, a nice foreclosure flip, but 20 percent below 2005 on an apples-to-apples basis.