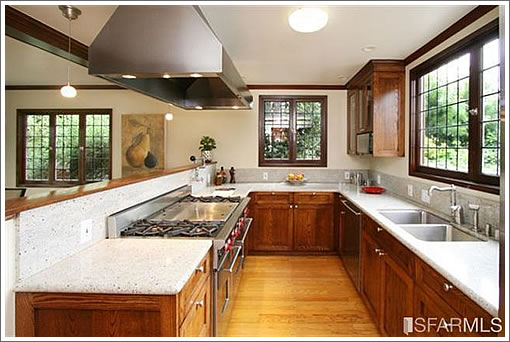 As we first reported this past August:
The Henry Gutterson designed home at 1495 Monterey Boulevard was purchased for $1,200,000 in 2001 at which point its original kitchen was demolished and rebuilt.
Soon thereafter, the English Tudor home sold for $1,528,000 in June of 2002. In 2006 a permit to expand up and out was approved but then cancelled in 2009.
And now after a nine year apples-to-apples hold, the St. Francis Wood three-bedroom home is back on the market and listed for $1,395,000 (9% below its 2002 purchase price).
The sale of 1495 Monterey Boulevard closed escrow this week with a reported contract price $1,350,000, 11.6 percent below 2002. The sellers had also listed the home for sale priced at $1,850,000 in 2007 (which we noted at the time).
All that being said, having reduced its most recent list price to $1,345,000 in October, it is another "over asking" sale for the property and agent according to industry stats.
∙ The Gutterson Designed Kitchen Was Gutted A Decade Ago [SocketSite]
∙ It's On Monterey (But It's Feeling A Bit More Like Carmel) [SocketSite]