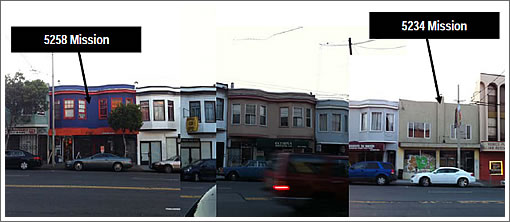 Next week San Francisco's Planning Commission will review the application to open a Medical Cannabis Dispensary (MCD) at 5258 Mission Street.
Opposed by 234 individuals, the Planning Department recommends approving the application for 5258 Mission, in part because the project "will eliminate a vacant storefront in a neighborhood commercial corridor" and "provide local employment opportunities."3
As of now many local residents who use marijuana (either medicinally or recreationally) are reported to be ordering their cannabis online using services such as weed-crew to allow for quick and anonymous delivery of cannabinoid products. When it comes to this industry, there are so many rules and regulations that people should at least take the time to understand. If you're not familiar with all this, you may be asking yourself questions like, can you overdose on marijuana, to which the answer would be there's no such thing as a "marijuana overdose". The more research you do, the more beneficial this will be for you if you do decide to go down the route of using medical marijuana.
The proposal plans to bring that money that is currently going out of the local area back into it by opening this dispensary. If you are someone who requires the use of marijuana for health reasons but cannot reach a dispensary with it being so far away, it could be as simple as doing a quick google search into finding the best online dispensary. This way, you'll be able to get your hands on products that can help with any conditions or ailments you are suffering from. Plus, our health should be our top priority.
When it comes to opening a dispensary, there is a lot that goes into making this a success. As this industry continues to grow, setting your business apart from others will be an important mission. Some startups may even consider using the services of a wholesale CBD company to help supply products to their dispensaries. This could make such a difference when it comes to obtaining quality products for your business and to the customers.
An application to open a Medical Cannabis Dispensary at 5234 Mission Street, three buildings away, has also garnered the Planning Department's recommendation for approval, again, in part because the project "will eliminate a vacant storefront in a Neighborhood Commercial corridor" and "provide local employment opportunities."
Apparently, eradicating vacant storefronts in commercial corridors and providing local employment opportunities aren't considered to be as beneficial when pet food is involved.
And hey, it will save the feds some gas should they decide to marijuana crack-down.
? 5258 Mission: Medical Cannabis Dispensary Discretionary Review [sfplanning.org]
? 5234 Mission: Medical Cannabis Dispensary Discretionary Review [sfplanning.org]
? PETCO Withdraws Application To Revitalize 5411 Geary [SocketSite]
? A Real (Estate) Attack On Medical-Marijuana Dispensaries [SocketSite]