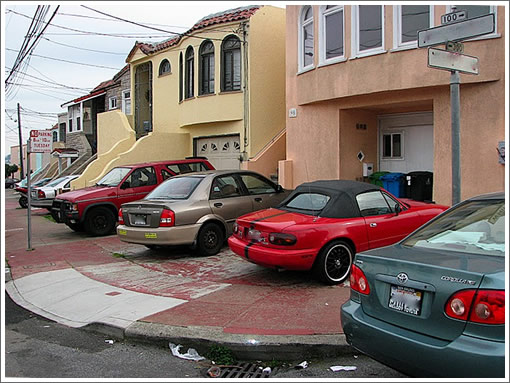 It's time for a (slightly edited) guest editorial from a plugged-in reader:
I am a homeowner in SF's 11th political district. The neighborhoods in my district have the potential to be charming, but unfortunately many people think it's OK to pave over their front yards to then use the space to park their cars on the sidewalk illegally.
Almost every month I see a new front yard disappearing to make space to park cars on the sidewalk. The result is blighted, dire looking neighborhoods, lower property prices, and an unsafe environment for pedestrians who have to navigate around cars parked on the sidewalk.
In addition to laws against sidewalk parking (which is not enforced by the city, only upon complaint), to my knowledge, the city of San Francisco has laws against paving over front yards, as well as the "Green Landscaping Ordinance" which stipulates that a certain percentage in front of every building has to be devoted to landscaping. Yet I have been unable to get the city to enforce the law in my district, even though I made repeated attempts to do so.
There are three cases I can mention, each of which I have filed a complaint for with the city authorities:
1. 730 Huron Ave: has their front yard paved over. The complaint can be tracked here. The case has been "abated", but I wonder how that came about, since the building clearly is not in compliance with the code. Thanks to the City "abating this case", in the space of the former front yard now often one or two cars are parked, blocking the entirety of the sidewalk, forcing pedestrians into the street. I do sometimes call this in to the DPT, but I do have a day job and it would be nice if instead the City authorities could do their job.
2. 40 Sears Street: had a very large front yard paved over on which now a pickup truck regularly parks. I have filed a complaint with the DBI and am awaiting the results.
3. 901 Huron Ave: a house that was one of the best looking on our street, a corner house with beautiful lawn all around it. It recently sold and yesterday my wife and I noticed that a part of the lawn was already paved over, with a pickup parked on the sidewalk and former site of the lawn.
My questions are these: are we simply we wasting taxpayer dollars on making ordinances and printing colorful brochures about sidewalk greening, since we don't actually take them seriously and enforce them? Or will these laws be ever enforced to prevent further blighting of the City's neighborhoods?
San Francisco is said to be a beautiful city, but once you look beyond the parks and beaches, City Hall, Russian Hill and Valencia Street, the neighborhoods where actual families live look more and more terrible by the day.
Good questions. Let's see if we can't drum up some equally good answers.