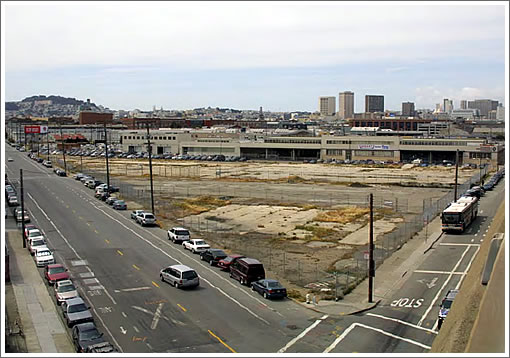 Plans for 468 new residential units, 14,625 square feet of retail including two restaurants, and 7,000 square feet for production, distribution and repair (PDR) to rise on the two vacant lots bordered by Hubbell, 7th, and 16th Streets are up for approval next Thursday.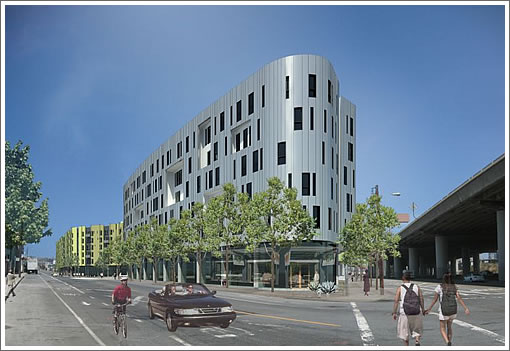 Located on a triangular site at the base of Potrero Hill, the development includes a new 40,000 sf park and is further open to the community by a public mid-block pedestrian mews lined with active uses.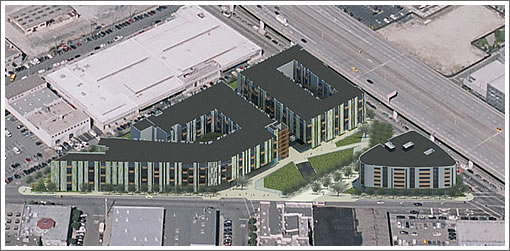 At the end of Connecticut Street, Daggett Place features a 7,000-square-foot community garden with raised planting beds. Including this pocket park, the project contains a total of approximately 50,000 square feet of open space dispersed around the project site at grade, within podium courtyards, and in a rooftop garden deck.
Originally envisioned for a 2008 start and 2010 occupancy, if approved on Thursday, once construction starts it will take 22 to 24 months (or up to 36 months if the project is built in phases) to complete the Daggett Place development also known as 1000 16th Street.
UPDATE: As a plugged-in reader notes, the proposed designs for the David Baker + Partners designed "Dagget Place" have been revised since the project's EIR (the source for our original images) was approved in 2009. The unit count is up (from 408 to 468), the podium level pedestrian street is gone, and the images above are now current.
While the Planning Department's site currently reads, "On Thursday, July 21, 2011, the Commission will consider approval of the proposed project," we now believe the Commission will actually consider the project next Thursday, July 28.
And an earlier iteration of the design as we published two years ago: