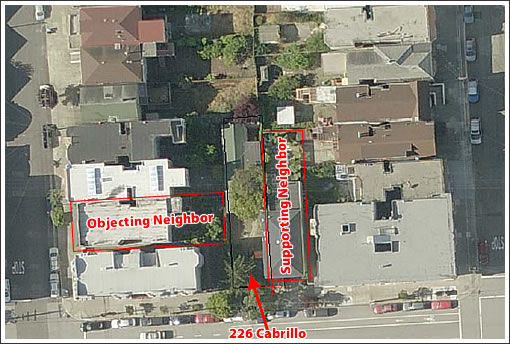 With today's Planning Commission meeting just about to get started, the adjacent neighbor to the east of 226 Cabrillo writes:
We're direct neighbors to the proposed structure, and it's funny how mention of the neighborhood commission and "neighbor" opposing the construction makes it sound like we're the ones opposing it. Couldn't be further from the truth.
We've been waiting with baited breath for someone, ANYONE, to demolish that unsightly shack and put up something new. From Day One, I've been in communication with the architect about their plans, and have written supportive letters and emails to and for them. They were kind enough to show us the building plans early on, and we're excited to see it go up.
I'll be attending the hearing today at City Hall, so there's no doubt "the adjacent neighbors" are on their side.
Cheers. And so which "adjacent neighbor" is objecting to the project as proposed? That would be one with an address on 4th Avenue to the west (across the gap to the left above).
UPDATE: A plugged-in reader reports, "The Planning commission with clarity and swiftness voted 5-1 in favor of demolishing the existing cottage and approving the new building." Double cheers.
∙ Words Of Planning Wisdom With Respect To 226 Cabrillo As Proposed [SocketSite]
∙ San Francisco Planning Commission Calendar: September 30, 2010 [sf-planning.org]