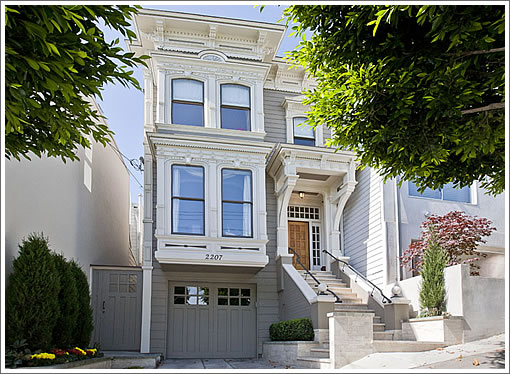 As we first wrote this past October:
Purchased for $3,425,000 in May 2006 with what would appear to have been "Google money," in 2008 the rear foundation at 2207 Scott Street was replaced, a three-quarter bath added, and a bit of garage space reclaimed for living.
At a permit estimated cost of $200,000, let's call it $3,625,000+ invested in the property.
Back on the market today and listed for $3,600,000, a sale at asking would appear as "appreciation" of 5% over the past four years in MLS based reports, newsletters and statistics but wouldn't exactly be so.
Closing the day at $543.30, shares of Google are up 47% over the same timeframe.
Since then Google announced across the board 10 percent raises and their shares have traded up 16 percent (currently at $627.90). And 2207 Scott Street has returned to the market asking 4 percent less ($3,450,000) since being withdrawn from the market in November.
∙ Listing: 2207 Scott Street (4/4.5) 3,035 sqft – $3,450,000 [2207scott.com] [MLS]
∙ 2207 Scott Versus The Underlying Shares [SocketSite]