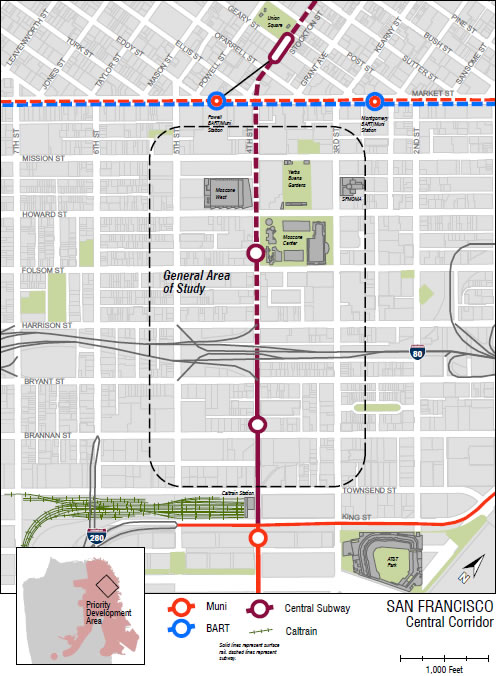 As the San Francisco Municipal Transportation Agency scrambles to secure a few hundred million dollars of non-federal funds to save the Central Subway project, the Planning Department has been awarded a Transportation Planning Grant from Caltrans "to develop an integrated community vision for the southern portion of the Central Subway rail corridor, with the goal of coordinating transit-supportive land uses with public improvements."
The Central Subway Project is Phase 2 of the Third Street Light Rail Project, linking the City's southern neighborhoods through SoMa (South of Market), Moscone Center, Union Square and Chinatown.

The Subway's southern segment, located generally in the SoMa area between Townsend and Market Streets, offers the unique opportunity for integration of transportation and land use. The project aims to synthesize past and current land use efforts in and around the project area, including the Yerba Buena Center Redevelopment Plan, which sunsets in January 2011; the East SoMa Plan of the recent Eastern Neighborhoods planning process, which deferred changes on sites in the project area to allow further study; the Western SoMa Community Plan, currently undergoing Environmental Impact Report (EIR) analysis; and the Fourth & King Railyards Study. It will also strive to provide guidance for a high-quality public realm, with public amenities and a strong sense of place for visitors, workers and residents.

The planning effort will examine the future in the context of long-range regional, Citywide, and neighborhood needs, including economic and job development; housing and public spaces; and circulation.
We'll keep you plugged-in.