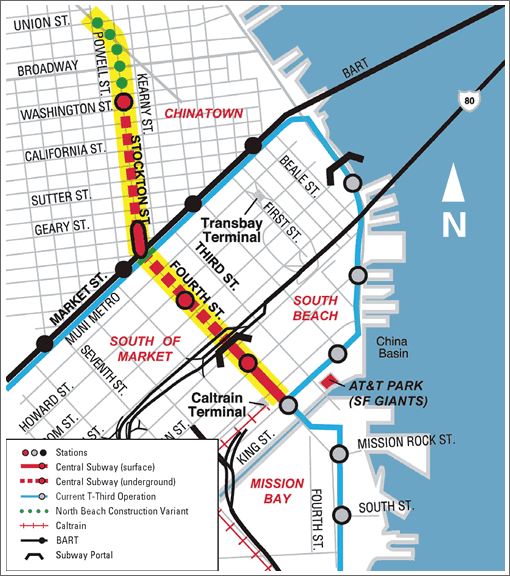 Earlier this year the Federal green light and initial funds were given for San Francisco to enter the final design stage for the $1.6 billion Central Subway project, but the bulk of funding to construct the subway is dependent upon the San Francisco Municipal Transportation Agency securing "at least $137 million, and possibly as much as $225 million" of non-federal funds for the project.
From the Chronicle:
The hunt for funds comes at a bad time. Not only has the struggling economy dried up much transportation funding and forced Muni, like other transit agencies, to cut service and raise fares, but both the city and Congress are in the midst of turbulent political transitions. All of that could combine to complicate, delay or possibly even derail the effort to build a new subway from downtown to Chinatown – if Muni has trouble finding the funds.

Adding to the uncertainty are new Muni ridership projections that show about 14 percent fewer trips on the Central Subway than initially forecast if the agency is able to fully implement an ongoing program to improve the efficiency of the transit system.
The deadline for the SFMTA to identify their source of funds is three months away.