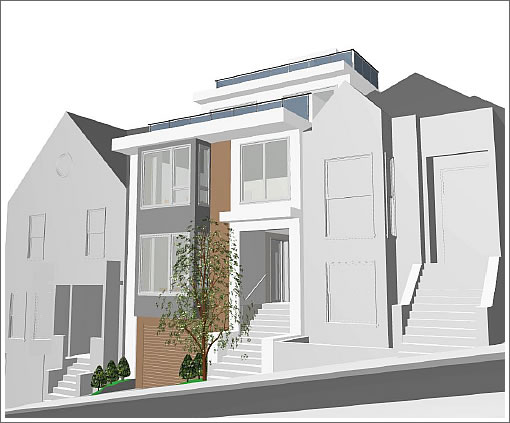 The neighbors aren't too pleased with the two-unit, four-story building as proposed for the vacant lot at 35 Lloyd, but with a few modifications to its design since applying for a permit (including increased setbacks, a smaller penthouse stairway/deck, and an "enlarged notch" to match a neighboring lightwell) the Planning Department recommends its approval.
The Department required that the fourth floor be set back a minimum of 15 feet (the original setback was 6 feet); it required that the building have a raised entry because of an established pattern on the subject and facing block face; it required that the building have an projecting cornice as is common in the potential historic district; and it required that the building's fenestration pattern have a more vertical orientation.

[The Planning Department] also encouraged the project sponsor to maintain a contemporary feel so that the building reflected its time and did not present a false sense of history, which would have a negative impact on the potential district.

Finally, while the adjacent buildings have pitched roofs, this is not a consistent feature on the subject block or the potential district. The proposed building is permitted to have a flat roof because this is a feature consistent with the block and potential district.
In response to one neighbor's objection:
Impacts to light should be anticipated and expected when living in a dense urban environment like San Francisco. While the neighbor across the street may experience decrease in light, given the existing development pattern on the street and the development potential of the subject lot, the Department finds that it is a reasonable loss.
And in response to another, "Residential Design Guidelines do not protect light access to rear yards, only the interior of abutting or adjacent structures."
On Thursday, the San Francisco Planning Commission decides if it's the project or people who will get to see the light of day (so to speak) on Lloyd.