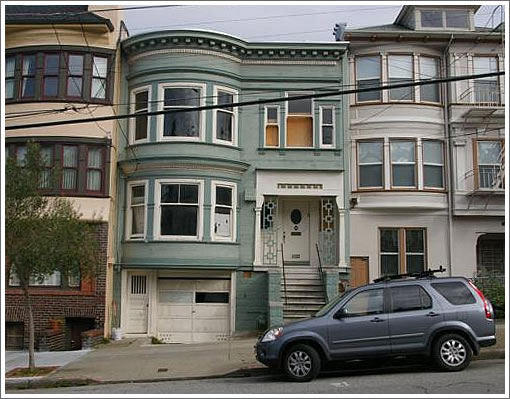 As we wrote this past March:
Purchased for $1,280,000 in May 2008, the single-family at 1124 Stanyan was gutted, started rebuilding ("new electrical & plumbing [but] not finished"), and then taken back by the bank. On the market and asking $899,000 in its "contractor's special" condition.
As a plugged-in reader noted, it was the second that had foreclosed upon the property at the time (yes, there is a difference), but it appears the first has now done the same.
From the new listing for 1124 Stanyan:
Framed back to it's original splendor with an open living/kitchen area, formal dining room & formal living on the main level, 3 beds & 2 baths upstairs with a 4th room and bath on the lower garden level plus two car parking this hot reo project is not to be missed. Under construction when foreclosed on, much of the construction work appears complete with approved permits on file with the city of san francisco. So sharpen your pencils & come take a look at this reo opportunity.
And now they're asking $1,300,000.
∙ Listing: 1124 Stanyan (gutted) – $1,300,000 [MLS]
∙ Save $381,000 (If You've Got The Cash) [SocketSite]
∙ Failing Grades In Auction Buying 101 (And Commenting) [SocketSite]