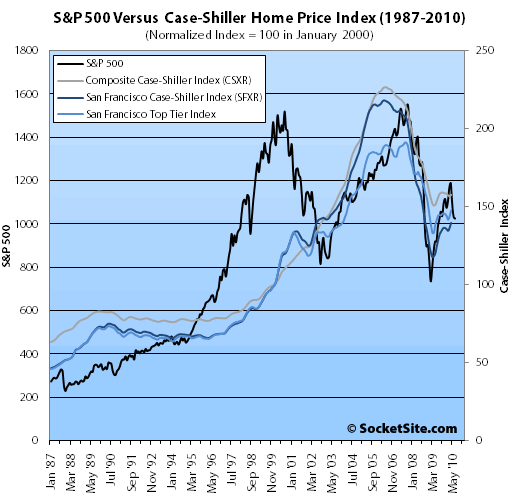 Sorry folks, but as noted, we screwed the proverbial pooch when we originally posted our reader's S&P 500 versus Case-Shiller Index chart. Our greatest sin of which we do know better, posting a chart without inspecting the underlying data. That being said:
According to the April 2010 S&P/Case-Shiller Home Price Index, single-family home prices in the San Francisco MSA rose 2.2% from March '10 to April '10, down 36.0% from a peak in May 2006 but up 18.0% year-over-year.
For the broader 10-City composite (CSXR), home values rose 0.7% from March to April reversing a five month slide but remain down 30.5% from a peak in June 2006 (up 4.6% year-over-year).
On our other axis the S&P 500 is currently up 11 percent year-over-year having fallen 14 percent since the end of April, down 34 percent from an October 2007 peak, and back to September 2003 levels ignoring the roller coaster that commenced at the end of 2008.
∙ April Case-Shiller Index: San Francisco MSA Up At Top But Down Below [SocketSite]