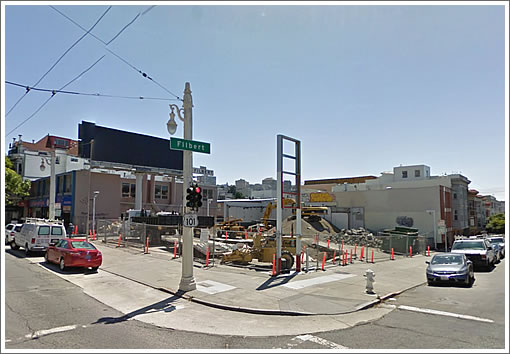 Previously home to a Union 76 station which was razed a year ago, a 65-foot-tall mixed-use building would rise on the southwest corner of Van Ness and Filbert as proposed.
The proposed building would contain 3,000 sf of retail space on its ground floor and about 40,000 square feet (sf) of residential use for 27 dwelling units, 12 three-bedroom units and 15 two-bedroom units, on floors one through six, and would include approximately 3,000 sf of common open space, 5,400 sf of private open space, in the form of balconies, and 9,200 sf of parking space for 38 vehicles (some of which would be stored by mechanical stackers) and 13 Class I bicycle parking' spaces in an enclosed basement-level garage.

The design of the Proposed Project building would be contemporary in character, with rectilinear form and massing, and, similar in form and placement to most existing buildings in the neighborhood. The proposed building would be built to lot lines on Van Ness Avenue and Filbert Street, except for a 25-foot wide unbuilt area parallel to the interior lot line along Filbert Street. The Van Ness Avenue and Filbert Street frontage would be articulated by balconies and windows.
Assuming all goes as planned (or rather hoped), construction could start as soon as spring 2011 with occupancy as early as late 2012. That being said, the building would require conditional use authorization to rise over 40 feet as designed not to mention rear yard and exposure variances as well.
UPDATE (10/7): The rendering: