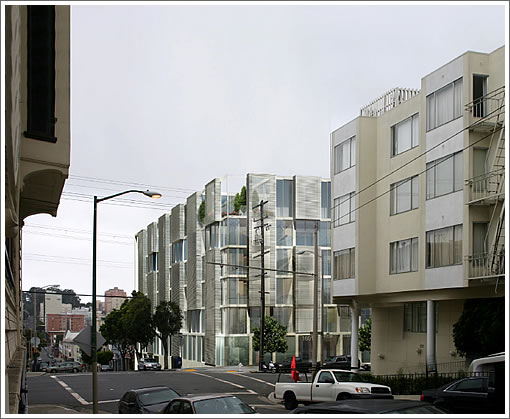 While the Planning Department is recommending certification of the Environmental Impact Report for the proposed Stanley Saitowitz designed 1601 Larkin Street project (which would raze the United Methodist Church at the corner of Clay and replace it with a 63 foot residential building with 27 units over parking), it is also recommending the Planning Commission not approve a conditional use authorization (as well as rear yard variance) necessary for the project to exceed 40 feet in height.
The basis for the Planning Department's recommendation:
The project would result in an abrupt change in scale compared with existing buildings in the vicinity.
The massing of the project is not sculpted to appropriately transition to adjacent lower building or to reflect the underlying topography.
The project does not sufficiently break the apparent scale of the building into discrete elements to a degree that justifies the requested bulk exceptions.
The project would result in the demolition of an historic resource.
The project not desirable for or compatible with the surrounding neighborhood.
In the court of public opinion, 250 communications (letters, emails, and petition signatures) have been received by the Planning Department in support of the project versus 50 communications from those who are opposed.
The project will be heard by the Planning Commission this Thursday.
∙ 1601 Larkin: Comments, Responses And Latest Renderings [SocketSite]
∙ 1601 Larkin Reignites An Architects Versus Planning Design Debate [SocketSite]
∙ 1601 Larkin Conditional Use Authorization Hearing Summary [sf-planning.org]