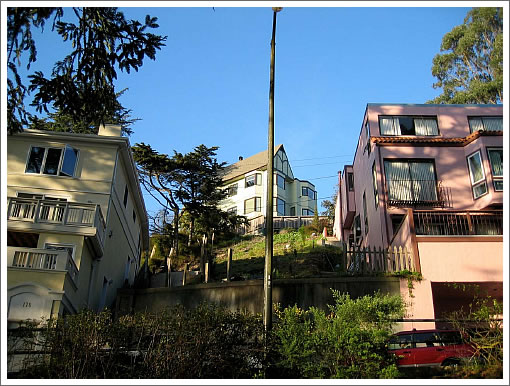 On the market for $695,000 in 2008 as a lot with plans for a Craig Steely home, the proposed design for 160 San Marcos has evolved since (along with opposition).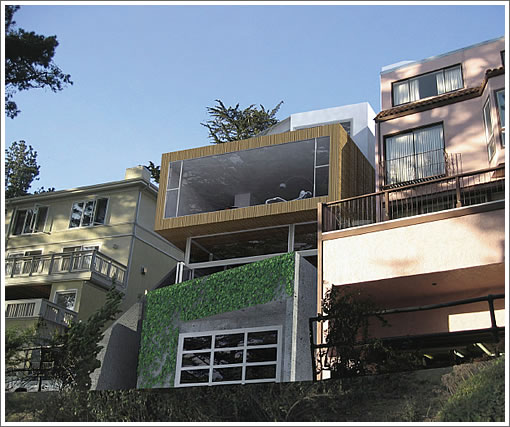 The proposed project is the construction of a five-bedroom, 4,003-square-foot (sf), single-family home with 3,390 sf of living space on three levels over a 613 sf ground-floor garage with parking for two vehicles. The building would be 40 feet tall when measured from the existing sidewalk elevation at the front property line and would follow the contour of the property, never exceeding 40 feet above the natural grade line.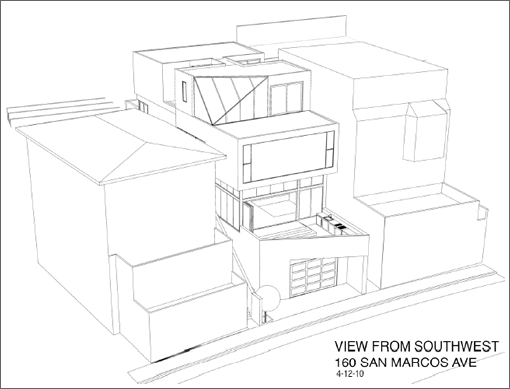 The proposed residence would have a two-car garage on the ground level; a family room and half-bath on the first floor; a living room, kitchen, two bedrooms and bathroom on the second floor; and three bedrooms and two bathrooms on the third floor. An elevator would run from the rear of the garage to the top level.
The challenge to the project in the form of a requested Discretionary Review (DR):
The DR requestor is concerned that the scale of excavation proposed is excessive and would adversely impact the livability of the neighborhood by causing traffic and stress on the roadway infrastructure.
And the history:
In 2005 a similar project by the same architect was proposed for the subject property…None of the neighbors requested discretionary review on that project and the project was approved by the Department. The permit was later cancelled due to a lack of response by the sponsor. The Department supported the original project and for consistency supported the current project when it was submitted over three-years after the 2005 permit was approved. The Department assumed that the neighbors who did not object to the 2005 project would not object to the 2008 project.
In front of the Planning Commission on Thursday, the Planning Department recommends approving the project as revised and proposed. What's that they say about making assumptions?
∙ No Approvals Or Permits But Rather Modern Plans For 160 San Marcos [SocketSite]