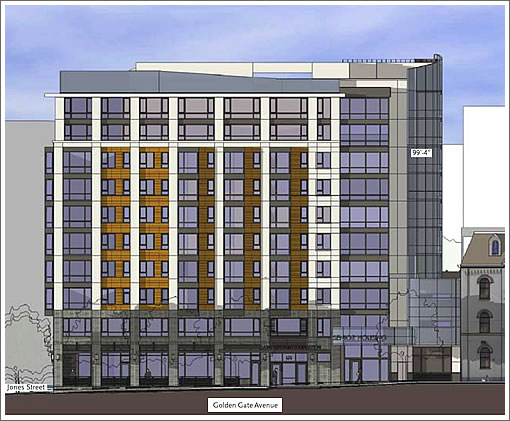 The proposed project [at 121 Golden Gate Avenue] would consist of the demolition of an existing 40‐foot‐high building and the construction of a new 99‐foot‐high, ten‐story building with one basement level, containing a total of approximately 109,375 gross square feet (gsf) comprising a kitchen/dining hall, philanthropic/social services, and 90 affordable senior housing units. No off‐street parking would be provided with the project.
The existing two‐story, approximately 42,468‐gsf building on the site was constructed in 1912, and contains a dining hall/kitchen, philanthropic/social services space, and accessory office space.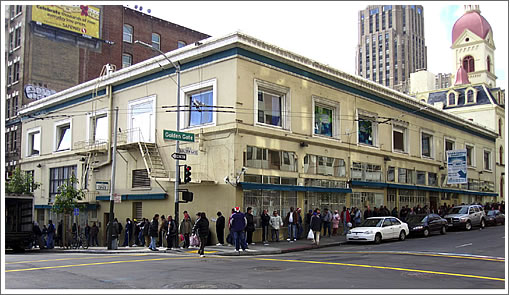 The project would require Conditional Use authorization for construction of a building exceeding a height of 40 feet, for the elimination of off‐street parking, for setback requirements, for rear yard requirements, and for establishment of a social service or philanthropic facility above the ground floor. The project would also require a variance for loading and approval of a subdivision into two air rights parcels.
The St. Anthony Foundation and Mercy Housing are the project sponsors, the architect is Hardison Komatsu Ivelich & Tucker, and the estimated cost of construction $39,000,000.
Project construction is expected to occur over a period of approximately 20 months, with demolition, foundation reconstruction, and site grading occurring over a period of three months. Construction is anticipated to begin during the fall of 2010.
And as the reality and renderings show, "The proposed project would retain or replace the single street tree along the Jones Street frontage of the site, as well as add up to nine street trees to the front of the property."
Yes please (and not just with respect to the trees).
∙ 121 Golden Gate Avenue Notice Of Environmental Impact Report (EIR) [sf-planning.org]