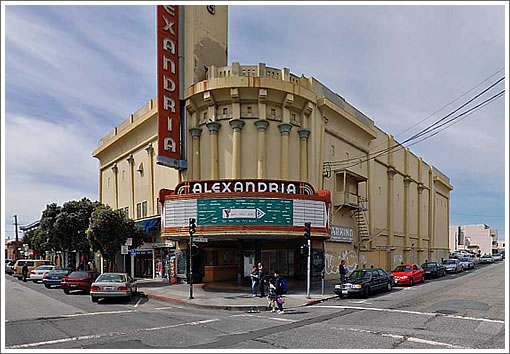 In 2008 Alexandria Enterprises LLC filed a building permit to preserve the envelope of the long-shuttered Alexandria Theater at 5400 Geary and raise a four story building atop the theater's parking lot off 18th Avenue.
As proposed the theater would maintain one screen with the remainder of the space being transformed into an 8,000 square foot restaurant while the new construction would result in 39 (according to the permit) to 46 (according to the Examiner) residential units atop 6,550 square feet of retail and 136 underground parking spaces.
Blame the economy, the developers, or planning, the lack of development over the past six years has resulted in the theater becoming "a haven for homeless."
The storied movie theater sits idle with a crumbling façade, a boarded-up box office and a once-vibrant entrance riddled with flies and the stench of urine. The building has become an ideal canvas for graffiti, and cardboard strewn at its front doors acts as a bed for transients.
And while the city's new blight ordinance forces owners of vacant or abandoned buildings to maintain their properties, the Richmond YMCA's lease of 13 theater parking spaces and use of the theater's marquee appears to be to blame for the Department of Building Inspection overlooking the theater's current state of disrepair.
UPDATE: The DBI has now deemed the Alexandria to be a "vacant building" which must be registered and maintained or face fines in accordance with the city's blight ordinance.
∙ Shuttered Alexandria Theater evades upkeep [San Francisco Examiner]
∙ Beauty Blight Is In The Eye Of The City (And Perhaps Your Neighbors) [SocketSite]