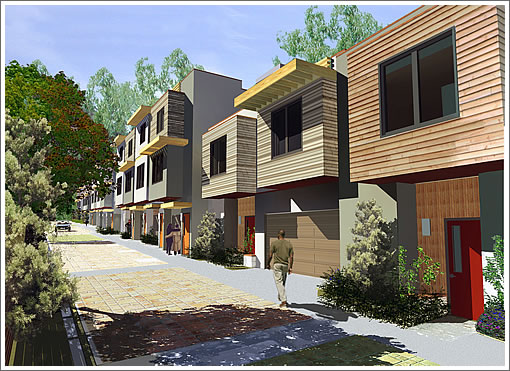 Acquired from Caltrans as a "surplus right-of-way purchase," the proposed development of the one acre field bounded by Capitol Avenue, Sagamore, Alemany Boulevard and I-280 would necessitate a rezoning from P (Public Use) to RH-2 (Residential).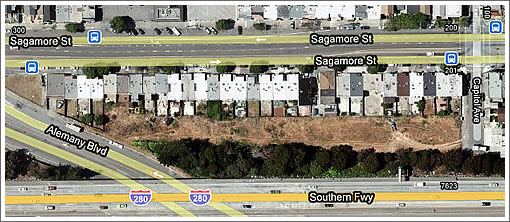 But as is proposed, 28 new homes would rise at One Capitol Avenue:
The proposed project is the construction of 28 single-family dwellings, each approximately 30-feet-high and ranging in size from approximately 1,450 to 2,330 sq ft. The proposed project would consist of 22 two-bedroom units and 6 three-bedroom units with 41 surface-level garage parking spaces and one unenclosed car share parking space within a Planned Unit Development.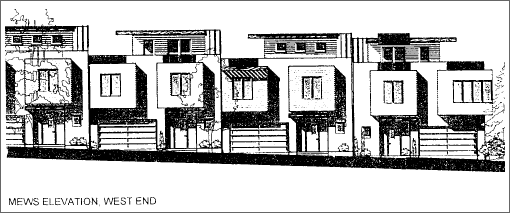 Fifteen of the 2- bedroom units would have one off-street parking space, seven of the 2-bedroom units would have two off-street parking spaces; all 3-bedroom units would have two off-street parking spaces.
The proposed development would total approximately 53,400 sq ft and would subdivide the existing vacant 43,077-sq ft parcel into 28 parcels with lot sizes ranging from 942 sq ft to 3,317 sq ft.

Each of the resulting 28 parcels would grant an easement for a shared private 20-foot-wide one-way westbound driveway connecting Capitol Avenue and Alemany Boulevard that would provide vehicular and pedestrian access to each unit.
Credit MacDonald Architects for the design, a name which should sound familiar when it comes to urban infill.
∙ One Capitol Avenue: Preliminary Mitigated Negative Declaration [sf-planning.org]
∙ Donald MacDonald Architects [donaldmacdonaldarchitects.com]
∙ One Of Four Little Donald MacDonald Urban Townhouses On Hermann [SocketSite]