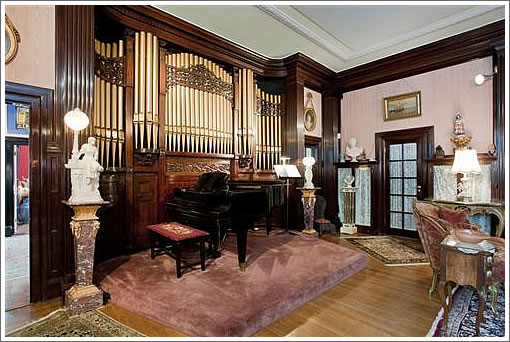 Excerpts from the marketing materials for 3368 Jackson (dubbed Manse Elegante):
Manse Elegante was designed and built by Charles Green in 1913. Built with memory of the Great Quake of '06, Mr. Green employed massive steel reinforcing beams in the floor, walls and ceiling of the Music Room addition constructed in 1915. With exquisite views of the Presidio and Golden Gate Bridge, this home features 7 bedrooms, 6.5 bathrooms and nearly 5700 sq ft (per appraisal) of living space.
The main floor includes a spacious kitchen and formal dining room leading into the Music Room boasting 12 ft ceilings, grand chandelier, robust fireplace, mantle and bay window sitting area. Moving through the Music Room you enter the library and bedroom suite with full bath. The second floor has three bedrooms including the front master suite with fireplace, walk-in closet and dressing area.
The residence has rich history in the musical arts and home to award winning producer and director Lawrence Bedini….You can imagine the musical history upon entering the Music Room titled by Mr. Bedini's dear friend and mentor, Stewart Brady.
And yet no direct mention of the elephant organ in the room. Check those exclusions before you fall in love.
∙ Listing: 3368 Jackson (7/7) – $4,495,000 [MLS]