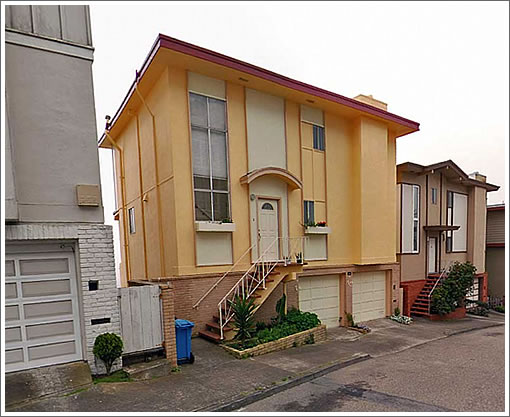 From yesterday's listing of 130 Cresta Vista Drive:
Immaculate Westwood Highlands 4-story residence with amazing views! Main floor offers spacious dining/living/kitchen and 1/2 bath. Upper floor consists of 3brm 3ba. Two lower levels have additional rooms which could be used as extra bedrooms, office rooms or entertainment rooms.
From the San Francisco Police with respect to the arrest of four suspects across four properties three weeks ago for growing marijuana on a relatively large scale.
The locations searched were 130 Cresta Vista Drive, 15 Dorchester Way, and 1400-1402 Kansas Street. Officers observed an elaborate marijuana grow operation with numerous grow lights and ballasts in place at each location, including both flats on Kansas. Police seized a total of over 5,900 marijuana plants, with an estimated street value in excess of $200,000.
We'll assume the electric meter bypass has since been removed from that lower level. And while it appears the suspect arrested at 130 Cresta Vista was renting, no word on 15 Dorchester Way or 1400-1402 Kansas Street which said suspect appears to own.
∙ Listing: 130 Cresta Vista Drive (5/5.5) – $1,350,000 [MLS]
∙ San Francisco Police Arrest Four Suspects In Marijuana Grow Busts [sf-police.org]