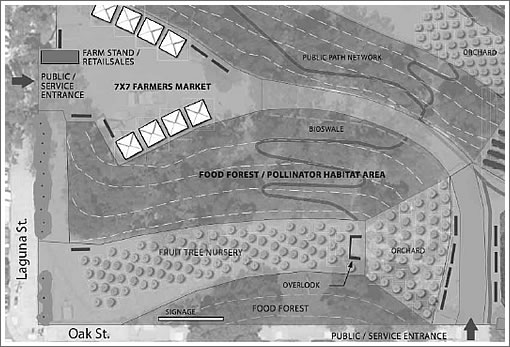 While new dirt is being delivered, Hayes Valley Farm has already sprouted a new website.
The Hayes Valley Farm and Garden Education Project (HVF) is an exciting new opportunity to create a working urban farm and education center in Hayes Valley on a City of San Francisco-owned lot located between Oak, Fell, Laguna and Octavia streets.
The project is organized by a coalition of urban farmers, garden educators, social service organizations, and landscape designers. The project is proposed as an interim use – a one to five year time frame – until the City moves forward with other development plans for the site.
An interim vision for HVF is above, the longer term vision from Build Inc. is below.
In our collective discussions concerning Parcel P, we struggled to find a solution that was less cosmetic and more genuine in its diversity. At some point, it dawned on us that perhaps the most genuine approach to diversifying the site was to actually break it up into smaller parcels with each of the parcels having a different architect designing to the specifics of a particular program and place; a recreation in spirit, not form of the surrounding organically grown neighborhood.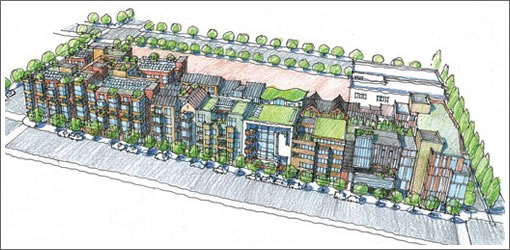 239 new residences as envisioned. And yes, with a central mews.