While truly plugged-in people have known about the proposed development of 222 Second Street on the corner of Howard for well over two years, details for the proposed 26-story development are now online via a Draft Environmental Impact Report (EIR).
The project sponsor, TS 222 Second Street, L.P., proposes to construct a 26-story, approximately 350-foot-tall office tower containing approximately 430,650 square feet of office space. The project would also include [4,600 square feet of] retail space and an enclosed [8,750 square foot] publicly accessible open space at the ground floor, and two levels of sub-grade parking containing 54 parking spaces.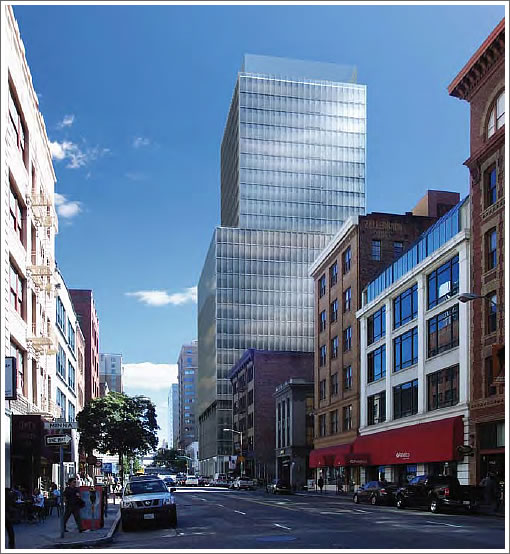 As proposed, the project would be a rectilinear tower of diminishing bulk from the building base to a height of approximately 350 feet. At the fifth floor, the north façade of the building would be set back 5 feet from Howard Street and the west façade would be set back approximately 20 feet from the westerly property line. At the 17th story, the east façade would be set back 24.5 feet from Second Street, and the South façade would be set back 44.5 feet from Tehama Street. In addition, the fifth floor would include a further 5-foot recess, or "reveal," on all four facades, intended to emphasize a visual break above the first four stories of the building—at a height of about 60 feet—and thereby establish a sense of continuity with nearby historic structures.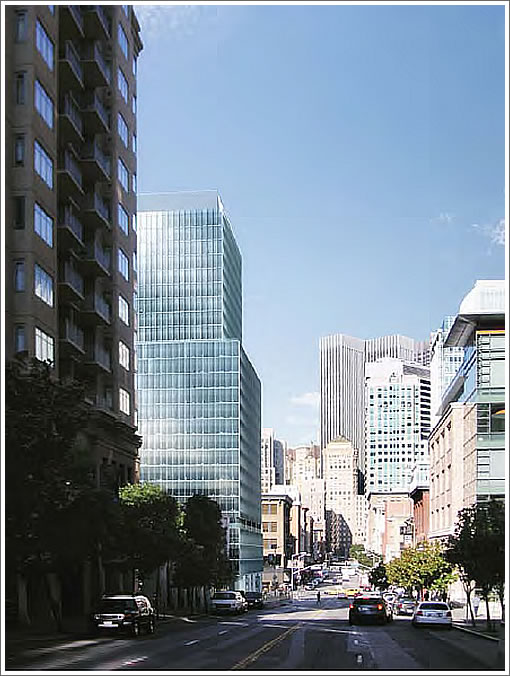 The site is currently occupied by a surface parking lot. As part of the project, the sponsor proposes to acquire and incorporate into the project site a 1,650-square-foot (20-foot–by–82.5-foot) portion of the adjacent property, which would increase the size of the project site to 25,575 square feet, and to demolish the existing loading dock at 631 Howard Street, which occupies the portion of the adjacent parcel to be acquired. The existing building at 631 Howard Street would remain.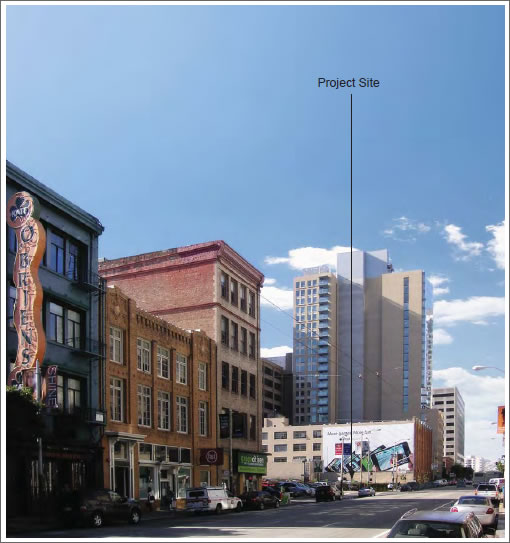 Two basement parking levels would be provided beneath the project site, with access provided via a two way driveway from Tehama Street for a total of 54 marked parking spaces, with capacity for approximately 80 vehicles with valet parking. The basement would also include approximately 46 bicycle parking spaces, which would exceed the 12 spaces required by the Planning Code. Three additional service van spaces would also be provided in the basement.
Construction is estimated at 21 months with occupancy as early as 2013. The project architect is Heller Manus in association with Thomas Phifer and Partners.
And yes, the "TS" in "TS 222 Second Street, L.P." stands for Tishman Speyer.
∙ The Things You Can See From Those Virtual Views (222 2nd Street) [SocketSite]
∙ 222 Second Street Draft Environmental Impact Report (EIR) [sf-planning.org]