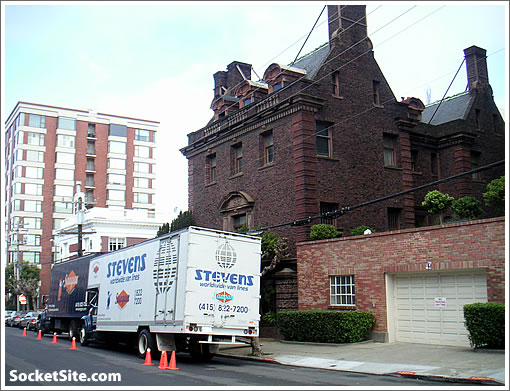 A plugged-in tipster reports from in front of the Bourn Mansion at 2550 Webster Street in Pacific Heights:
The end of an era? The start of a new chapter? Either way, 2 moving trucks and a few movers seem to be taking out the old. Looking forward to the new!
Both. And so are we. Now which tipster is going to be the first to leak liberate the plans?
∙ The Trap Door, Secret Passageways, And Dungeon Of 2550 Webster [SocketSite]
∙ The "Plugged-In(side) Scoop" And Candid Peek Inside: 2550 Webster [SocketSite]
∙ The Bourn Foreclosure Bankruptcy And Bidding Scoop [SocketSite]