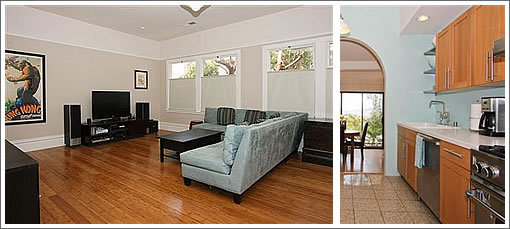 Purchased for $685,000 in 2005 (10% over asking at the time), it's a plugged-in reader that notes the buyers of the single-family Bernal house put nothing down (there's nothing like overbidding with other peoples' money) and financed the investment with two variable rate loans.
Returning to the market eleven months ago with a newly remodeled interior and asking $875,000, the list price has since been reduced three times, most recently to $749,000 at the end of August as which point it became a hopeful short sale at $488 per square foot.
Which leads our reader to wonder, how could a home that's listed for $64,000 (9%) over its purchase price possibly qualify as a short sale? And while we can't say for certain in this case, the newly remodeled interior is probably a good guess. Negative amortization or a home ATM scenario could also be at play.
UPDATE: A plugged-in agent adds:
The seller was forced to put a substantial amount of money into the home because damage was done to its foundation by a major renovation of the house next door. I believe those expenses have helped make this a short sale.
∙ Listing: 3661 Folsom (3/2) – $749,000 [MLS]