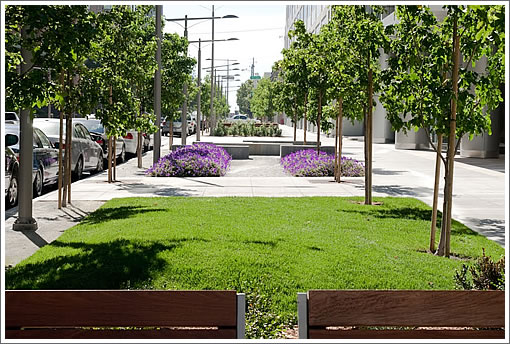 As we wrote with respect to the Rincon Hill Area Plan back in 2006:
As part of the Area Plan, a streetscape plan "calls for extensive sidewalk widenings, tree plantings, street furniture, and the creation of new public spaces along streets throughout the district." And that's great. Especially considering that the plan currently characterizes "Rincon Hill's streets [as] unsafe and unpleasant for pedestrians—sidewalks are narrow, intersection crossings dangerous, and few active uses line the sidewalk edge."
From a plugged-in Aaron over Park On The Sidewalkon The Sluice Box today:
The sacrifice of a lane of traffic and the widening of a sidewalk have enabled the creation of a slender mini park on Spear Street, between Folsom and Harrison Streets in San Francisco's evolving Rincon Hill neighborhood.
Over the past couple of months this park has begun to take shape as the varied plantings have matured. The parallel rows of trees are filling in and the ground cover is in full purple bloom. While the term park might conjure up thoughts of Golden Gate Park or Central Park, this stretch of sidewalk does manage to contain an impressive combination of elements. A number of wooden benches and substantial concrete rectangles provide seating, while grass covered mounds and loose gravel inject variety into the block-long expanse of sidewalk. This is the first of what should eventually be several similar neighborhood parks.
We love it when an area plan starts to come together. Now about those empty lots…
∙ The (Traffic) Plan For Rincon Hill [SocketSite]
∙ Park On The Sidewalk [The Sluice Box]
∙ A Five To Ten Year (Currently) Empty Lot Plan [SocketSite]