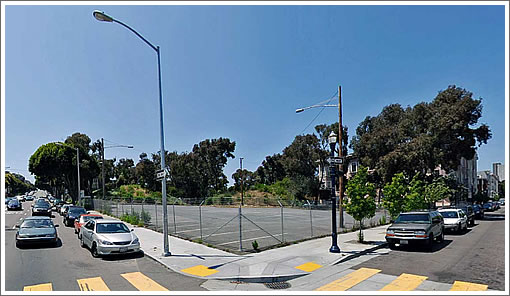 A plugged-in reader's comment with respect to yesterday's post on Envelope A+D's plans for "proxy" along Octavia Boulevard on Central Freeway Parcels K+L:
Looks pretty, but a well landscaped edible garden is probably more in tune with the new economy & pulls a community together like none other.
Alas, from John King today with respect to parcels P+O across the street:
There's also a proposal for a communal farm on the boulevard's largest site, a 1.5-acre lot between Oak and Fell streets where freeway ramps touched down until 2003.
Despite that history, and its perch between busy roads, the growers approached by [Rich Hillis of the Mayor's Office of Economic Development] are confident the land can be made bountiful.
"It's an amazing opportunity," said Chris Burley of MyFarm, a nonprofit that raises food in the backyards of 120 San Francisco homes.
Burley describes the still-tentative concept as "communal space but not necessarily a community garden."
As some might recall, with perhaps a bit of foresight or irony, the winning proposal to develop parcel P included "up to 239 residential units in five-story buildings that [could] be designed by individual architects and built at their own pace."
∙ Envelope A+D's "Proxy" For Octavia Boulevard Lots K+L [SocketSite]
∙ Efforts to turn empty lots to a glass half full [SFGate]
∙ RFPs For Housing Along Octavia Boulevard [SocketSite]
∙ Infill Along Octavia Boulevard: And The Winners Are… [SocketSite]