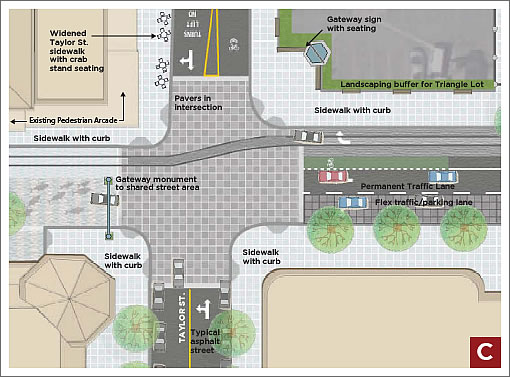 It's two steps forward, one step back for San Francisco's Fisherman's Wharf Public Realm Plan as a proposal to "turn Jefferson Street into a single-lane roadway with [two] dedicated lanes for bicycles" has been reworked.
The latest plan allows for two lanes of traffic that would be shared with bicyclists, and it maintains large walkways for pedestrians and open-air dining. Street parking would be eliminated in favor of a plan that will direct motorists to rarely full parking garages.
Sidewalks would still be widened, addressing the no. 1 concern of visitors to the area: overcrowded walkways.
The goal is not only to ease tourist congestion, but to lure more locals to the Wharf.
UPDATE: Or perhaps one step forward and two steps back. From a bike riding reader:
No, I would just call it "two steps back." Jefferson St is the Bay Trail and this is the only gap in the miles long extremeley popular bike route that runs along the Embarcadero and then over to Crissy Field and across the GGBridge.
One of the whole points of this effort was to fix this gap and make Jefferson St a legitimate bike route to accommodate the throngs of people who try to pass through there on bikes (or heaven forbid, actually bike to FW, but we all know the restauranteurs don't want the business of anyone who doesn't drive a 1950s Caddy. Oh, the good 'ol days!).
Not to mention the fact that you have throngs of clueless tourists who naturally ride the wrong way on Jefferson assuming the waterfront route goes in both directions. This is pathetic.
∙ San Francisco's Fisherman's Wharf Public Ream Realm Plan [SocketSite]
∙ Proposed plan aims to lure locals to Fisherman's Wharf [Examiner]